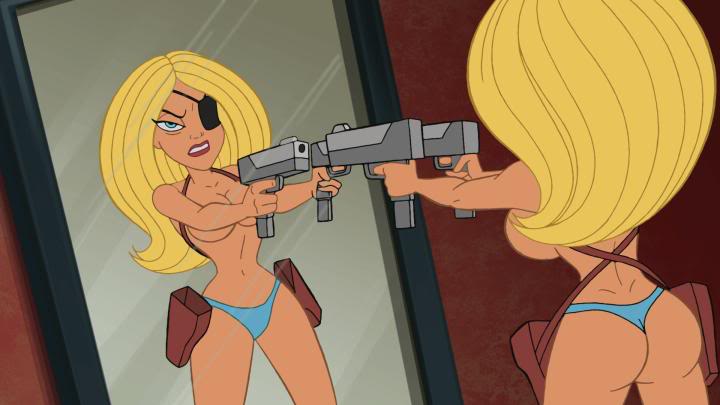 "Suzi-X Marks The Spot."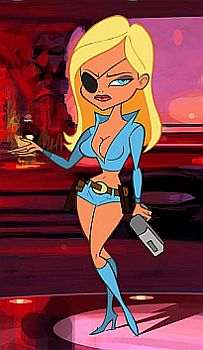 Rob Zombie has had an interesting career, to say the least. From the early days as the front-man of heavy-metal band White Zombie, through his own solo work [heavily influenced by B-movies], and then on into his movies. That started with the fairly-crap House of 1000 Corpses, then the better Devil Rejects, and then his remakes of the first two Halloween movies, which were ok, as remakes of horror classics go. And then there's The Haunted World of El Superbeasto, an animated feature which I stumbled across on cable. Well, actually, Chris did: "I Tivo'd a movie for you," she said. And, surprisingly, she stayed for the entire thing, and appeared to enjoy this animated feature. Which is odd, because it has much the same gleeful, excessive insanity as Bitch Slap, which she walked out on.
Based on a comic-book series, the focus is, at least, theoretically, El Superbeasto (Papa), a masked luchador and part-time exploitation film-director, whose opinion of his own talents is certainly not modest. Superbeasto gets involved with the the evil plans of Dr. Satan (Giamatti), who kidnaps foul-mouthed stripper Velvet Von Black (Dawson), because if he marries her, he'll get all the powers of the devil. El Superbeasto and his sister Suzi X (Moon Zombie) have to stop Dr. Satan, before he can destroy the world. And it's thanks to the latter that this film effortlessly slides into GWG territory. Imagine a soft(ish) porn version of those insurance ads with Erin Esurance kicking butt. Except, with far larger breasts, much more gore and a sidekick of a horny, transforming robot. Er, ok: not really like those insurance ads at all, then.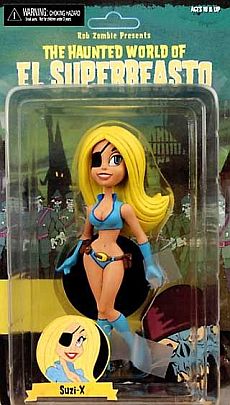 Zombie was responsible for the Werewolf Women of the SS faux-trailer in Grindhouse, and brings much the same gleeful approach to proceedings here. Indeed, we first see Suzi-X kidnapping the head of Hitler, which is kept alive in a jar (as in They Saved Hitler's Brain), and then has to escape by fighting her way through a massive pack of Nazi zombies (that'd be from Shock Waves). Carnage ensues, as it pretty much does, any time Suzi-X is on the screen, which is a lot – she gets far more of the action than El Superbeasto does. Proceedings culminate in a lengthy, slo-mo catfight, entirely necessary to the plot, between her and Von Black, while the soundtrack cheerily informs us that "It's OK to jerk off to cartoons – the Japanese do it every day – so rub one out for the USA…"
Yeah, the soundtrack. By comic due Hard 'n' Phirm, it's certainly worthy of note, providing a sardonic commentary throughout. Witness the play-by-play as Suzi-X takes on the Nazi zombies, or as it bemoans the shameless ripoff of Carrie which is the finale. An appreciation of genre – particularly, horror movies – of the past eighty years or longer, will also help, as will as realizing this is not to be taken at all seriously. It's definitely not for kids, or the easily offended: copious female nudity, violence, swearing and generally questionable attitudes. It reminded me of Ralph Bakshi cartoons, such as Fritz the Cat, just much more tongue-in-cheek.
If anything, it may be a little too hyper and frenetic. We ended up taking a break in the middle, and chilling out with coffee and muffins before returning for the second-half. Throwing together everything but the kitchen sink as far as style, content and approach goes, it remains a thoroughly entertaining piece of trash cinema. While the supposed hero is actually not very interesting, and largely unlikeable, Suzi-X is a fabulous action heroine, whom I'd enjoy seeing more of [not that there's much you don't see of her here, if you know what I mean, and I think you do…] Check out the clip below for some idea of what to expect.
Dir: Rob Zombie
Star (voice): Tom Papa, Sheri Moon Zombie, Paul Giamatti, Rosario Dawson
The player will show in this paragraph