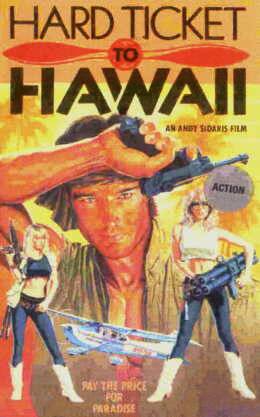 Also known as Hard Titties in Hawaii – at least in this house – it's a big step forward as far as the evolution of Sidaris' work goes. After the flailing around that was Malibu Express, he's now firmly settled on Hawaii as a location, and jiggly action/adventure as the genre. However, he still unfortunately seems to want to cram lame comedy in there, such as clunky references to his previous films, while many of the actors appear not to have been chosen for their thespian ability – to their credit, Speir and Carlton aren't particularly the worst offenders.
They play, respectively, a local agent and a former agent now embedded in a new identity, courtesy of witness protection, who stumble across two packets of diamonds belonging to drug dealers. With the help of a couple of colleagues, including the brother of Cody Abilene from Malibu Express (Cody has apparently gone off to learn acting – which certainly explains his previous "performance"), they have to destroy the crime syndicate, though I'm pretty sure you can fill in the rest of the plot yourself. Not least because of the wildly gratuitous "let's take our tops off!" sequences, such as the relaxing brainstorming session, which naturally takes place in a jacuzzi. [Carlton doesn't even bother to get anything above her belly-button wet.]
The great majority of this film is actually a lot less fun than it sounds, since too many of the earlier scenes are pointless padding, despite blatantly thieving one of the best lines from Aliens. Even the nudity is not particularly well done, and the action is limited since the sum total of federal manpower is apparently "four" – I blame budget cutbacks. Then you reach a final 15 minutes where razor-edged frisbees, a villain who proves harder to kill than Jason Vorhees, explosive-tipped crossbows, and a snake contaminated with stuff from cancer-infected lab rats (no, really!) all suddenly play their part. This turns the last reel into berserk excess that's gory by Sidaris' standards, but undeniably and endearingly loopy. It's just a shame that you have to sit through 75 pretty dull minutes in order to find this madly imaginative climax.
Dir: Andy Sidaris
Star: Dona Speir, Hope Marie Carlton, Ronn Moss, Rodrigo Obregon