"Schoolmistress by day…crawls through impressively large air-ducts by night."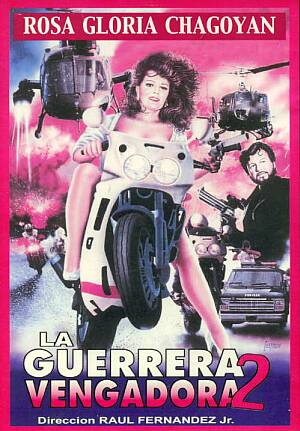 Chagoyan is perhaps the nearest thing Mexico has to offer to an action heroine. She best known for her role in Lola la Trailera ('Lola the Trucker'), in which, she played the daughter of a haulier – she takes over his business and goes out for vengeance, after he's gunned down for refusing to assist a drug-cartel. Almost a decade later, that director's son would helm this, in which Chagoyan plays a teacher who moonlights as a crime-fighting vigilante. Not having seen part one isn't much of a problem; presumably it explains her origins, and perhaps how she gets to spend so much time away from her job. All we see here is one class, before she and her midget sidekick take on a gang who kill one of her pupils (with a surprising amount of blood, it has to be said). Then, when she's blamed for kidnapping the daughter of the police chief, she has to find the real culprits and clear her name.
This swings wildly from surprisingly decent to laughable, as far as action goes. The explosions and stuntwork are credible. However, to call Chagoyan "unconvincing" is putting it mildly, not least the opening sequence where she rides into a hostage situation on her motorbike and saves the day – see Heroic Trio for how it should be done. But there are occasional moments (the crossbow bolt through the hand) that made us sit up and take notice, tiding us over the dumb comedic interludes. [Though any film with a flour-covered midget will always find a special place in our hearts.] There's a lengthy finale in an underground labyrinth, pitting our heroine and her explosive-tipped crossbow bolts against evil minions with flamethrowers, before coming back above ground to answer the age-old question, which is better: a helicopter or a rocket-launcher? If that has ever kept you up nights, this is the film for you.
Dir: Raul Fernandez Jr.
Star: Rosa Gloria Chagoyan, Rolando Fernandez, Edna Bolkan, Jorge Vargas