"Driver with a thousand faces."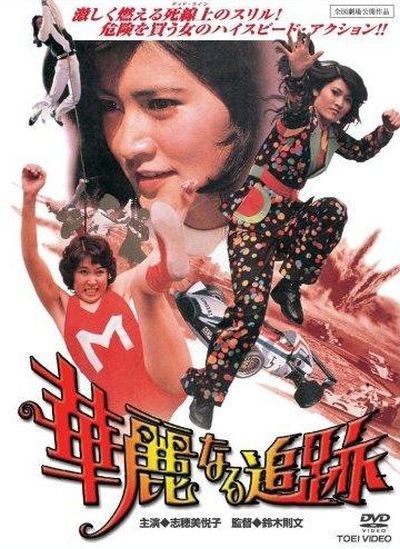 Shinobu Yashiro (Shiomi) is nationally known as a race-car ace, but also moonlights as an undercover agent for Japanese law enforcement. That's motivated by a desire to track down those responsible for the death of her father; he was a ship's captain, convicted of smuggling drugs, who "committed suicide" in prison, though Shinobu thinks he was framed by the real perpetrator. She gets a possible lead, in the shape of Henry Nagatani and starts tracking him down, with the help of the brother and sister who run her fan-club (!) out of a florist's shop (!!). Using a wide range of disguises, from a businessman through an old wonan to a nun and a Cambodian diplomat, Shinobu gets closer to the core of the conspiracy, and the man responsible, Onozawa (Ishibashi) though the cost on those she knows proves heavy indeed.
It's kinda all over the place in terms of tone, charmingly naive and innocently light-hearted in some ways, such as the entirely gratuitous presence of Mach Fumiake, as a nightclub singer who follows up her songs with an in-club wrestling bout. [Fumiake was at the time, one of the starts of All Japan Women's Wrestling, along with a tag team known as the "Beauty Pair", whose name inspired the Dirty Pair]. Similarly, Shinoby's disguises are also more than somewhat variable in terms of how convincing they are, and the drug-running through a convent, with guys dressed as nuns, may have inspired a similarly ridiculous plot thread in They Call Her Cleopatra Wong. Yet this can be grubbily sleazy, particularly in the second half. Onozawa likes to have rough sex while dressed in a bear suit, which reminded me of Walerian Borowczyk's La Bête, released the same year, and there's also an excessive amount of S&M, though Shiomi, naturally, remains above that sort of thing.
The action is probably not as frequent as Sister Street Fighter, and probably not as good, except for the final battle, where Shiomi gets to wield her nunchakus to excellent effect. Up until that, there are a lot of scenes where her kicks and punches don't seem to have much force to them – to be honest, Fumiake comes over rather better in that department! The whole race-car driver aspect is rapidly discarded, and provides nothing more than the title sequence; I was expecting at least a car-chase so the heroine could show off her mad driving skills, but the makers apparently felt no particular need to justify their choice of name for the movie. Yet it moves along briskly, and you have to appreciate Shiomi's enthusiastic performance, selling over-cooked lines such as: "Can't you tell who I am? We've seen each other so many times. A woman gambler at times; a young gentleman at times; a tea-serving old lady at times; a nun in a black dress at times; and a white haired Cambodian woman. And, under the mask, my true self is the daughter of Masahiro Yashiro, who was brutally murdered by you five years ago – Shinobu Yashiro!" Half a star extra, purely for delivering that with a straight face.
Dir: Noribumi Suzuki
Star: Sue Shiomi, Eiji Go, Mach Fumiake, Masashi Ishibashi