"Home cooking isn't necessarily more tasty."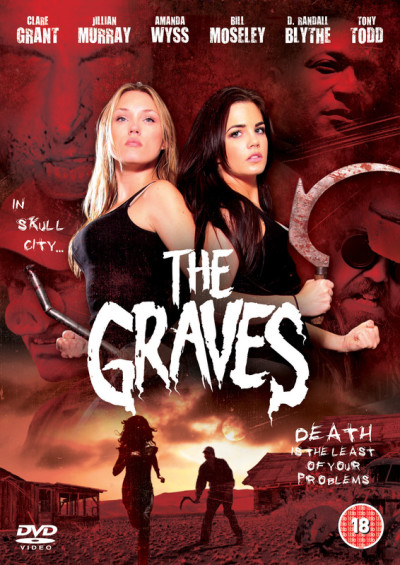 I must confess to being drawn in to this 2009 film partly by the "local interest" factor, it being an entirely Arizona-grown product. This is obvious – indeed, painfully so – in the early going, which includes a plug for a comic-store chain and a performance by a local band, as well as a particularly cringe-inducing cameo by some of the director's own comics. Mercifully, the film rapidly moves on to the actual plot. This has sisters Megan and Abby Graves (Grant and Murray) head out for a spot of sibling bonding, before one moves from Phoenix to New York. Their road-trip takes them to a diner where they're told about a nearby ghost town, Skull City, the site of a former gold-mine. Megan – the more outgoing and confident – is all for it; Abby is less sure, but is eventually convinced. What they don't know, is that the mine is the home of a very nasty cult of religious psychos led by the Reverend Abraham Stockton (Todd), and even the friendliest of locals (Moseley) can turn out to be potentially lethal.
I appreciated the straightforward and unpretentious nature of this: it's the two girls (really, it's almost entirely Megan who's the proactive one, with Abby only really good for running and screaming, with a side-order of quivering in terror) against the world. The story is thus largely to the point, though they might as well have disposed entirely with the unseen demonic entity subplot, since it doesn't add anything, given the effects budget was apparently largely limited to hearing it consume souls… Unfortunately, that poverty extends to quite a few other aspects. For example, the mayhem has a tendency to happen just off-screen, which is never satisfactory at the best of times, and the use of obvious CGI blood only draws attention to this shortcoming.
The performances are a bit over the place too. I enjoyed Todd, who chews scenery to good effect, from the moment he stalks into the diner, a terrified young girl in tow. He seems to have a handle on the comic-book tone for which Pulido is going. The rest of the cast? Not so much, particularly Moseley, who seems to think that putting a fake pig's nose on equates somehow to exuding menace. He's wrong. The two leads fall somewhere in between: while they're okay, the characters are never much more than generic cyphers. At least Pulido was wise enough to dump the hand-held video camera which infects some of the early going: a good rule for the use of such being, it's never a good idea. I'll admit half a star of my grade is likely the kick I got out of seeing places I know, such as scenes filmed at the late, lamented venue, The Sets in Tempe.  Take that away and sad to say, there isn't enough meat on the bones of its potential. The moral here is, just because you can make a film, doesn't mean you should….
Dir: Brian Pulido
Star: Clare Grant, Jillian Murray, Bill Moseley, Tony Todd