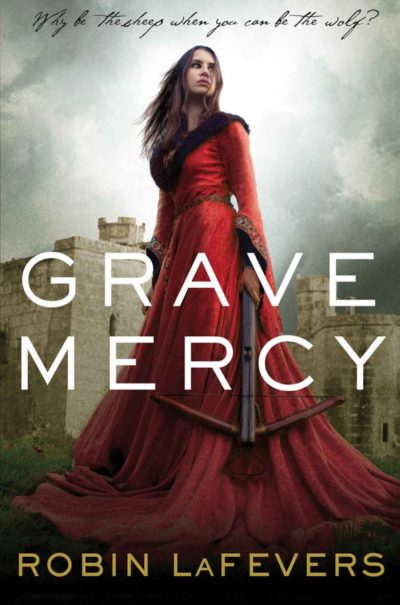 This works rather better as historical fiction than an action novel, and is set in the late 15th century, when the province of Brittany was fighting to remain independent from France. Such high-level political machinations are far above the heads of most inhabitants, who are busy with everyday survival. At the beginning of the book, this includes the heroine, 17-year-old Ismae, who is more concerned about her upcoming, unwanted marriage – more of a sale by her father, to be honest – to a brutal husband. Rescue comes in an unexpected form, as she is whisked away to the Convent of St. Mortain, devoted to one of the pagan gods, absorbed into the Catholic faith as a saint. Mortain's field is death, and Ismae, who has a natural immunity to poison, is trained in his dark arts. She becomes a tool used by the Mother Superior – albeit for political ends as much as religious ones.
After a couple of training missions, the main thread of the book is her presence at the court of the young Duchess of Brittany, where she is sent as the "cousin" to her adviser, Duval. Quotes used advisedly, since the general assumption is that she's Duval's mistress. Know I mentioned "high-level political machinations" in the previous paragraph? Cue these, in spades, as the future of Brittany hinges largely on to whom the Duchess is married. [It was only right at the end that I realized the Duchess had barely turned thirteen, rendering some of the previous events significantly more creepy] There are any number of factions, each with their own agenda, and willing to go to any lengths to make sure they're achieved; figuring out and negotiating the maze of loyalties and deception is no easy matter.
By coincidence, I read this not long after The White Queen by Phillipa Gregory, which depicts events in a similarly chaotic period, just across the English Channel and around the same time. That didn't have enough action to qualify here, but did get me in the appropriate Middle Ages mindset. It did share a supernatural element, with its heroine being able to affect the weather, for example. Here, Ismae's main talent is her ability to see the mark of Mortain on those the saint has targeted for death. But this is problematic when it conflicts with the instructions given to her by the Mother Superior, and the main thrust of the heroine's development is her transition away from an indoctrinated cult-head, as she realizes she might be being manipulated and used, almost as much as in her peasant days.
Part of this is – and you can insert a heavy sigh, complete with eye-rolling here – her blossoming feelings for Duval. It's clear, virtually from the first time he appears, that he is the Designated Love Interest, and it's only a matter of time before our hard-nosed assassin will inevitably be making googly eyes at him. It's certainly the case that, once she and he arrive at the castle, the action largely grinds to a halt, being replaced by much skulking around and eavesdropping on other people's conversations. There's much more suspicion than assassination, outside of one incident at the banquet, where she saves the Duchess from violent death at the hands of a mime – okay, it's more one of a strolling troupe of players, but I find the idea of a killer mime just too amusing to discard. [Also: while Ismae does wield a crossbow, it's considerably smaller than the one pictured on the cover!]
I did like the meshing of old and new religious beliefs, and must confess, this certainly didn't feel like a 550-page tome [one advantage of e-books is their lack of weight!], since I ripped through it in not much more than a week, which is lightning fast by my standards. But the book did suffer from incomplete subplots, such as the psycho fellow novitiate, who is also present in the Duchess's castle, only to vanish entirely from the story without explanation. Perhaps this is something which will be explained in a future installment. Having paid 99 cents for this on special offer, I guess I can't complain; but I likely wouldn't be inclined to pay the $9.99 currently being demanded for the second part of the trilogy.
Author: Robin LaFevers
Publisher: Houghton Mifflin Harcourt, available through Amazon, both as a printed book and an e-book.
Here's the trailer. Yep, TIL that books nowadays have trailers…