"Fully deserves a GLOWing review."

I have only vague memories of the Gorgeous Ladies of Wrestling, which never quite made the same cultural impact on the far side of the Atlantic as in their native country. I seem to recall seeing a couple of episodes, deciding it was a bit crap, and then slapping in a Megumi Kudo barbed-wire death match tape instead. But my interest was rekindled by the wonderful documentary, GLOW: The Story of the Gorgeous Ladies of Wrestling, and it appears I may not have been the only one. [Incidentally, we re-watched the doc after finishing the series; it's still very much recommended, and likely even better as a parallel version to this] The creators of the show were inspired by the same film to create their take, a heavily fictionalized telling of the show's origin, from auditions to their first TV taping.
It focuses on Ruth (Brie), a largely failed actress, who goes to the audition out of desperation. There, she meets the motley crew of other women, whom director Sam Sylvia (Maron) – a veteran of B-movies such as Blood Disco – has to try to lick into shape. The main dramatic tension is between Ruth and Debbie (Gilpin), a soap-opera actress, with whose husband Ruth had an affair. Their spat inspires Sam to recruit Debbie, who would provide much needed star-power – but convincing her to get on board is an issue in itself. And there's then the issue of her severely strained relationship with Ruth. While this may give their in-ring conflict credibility, it comes at a cost.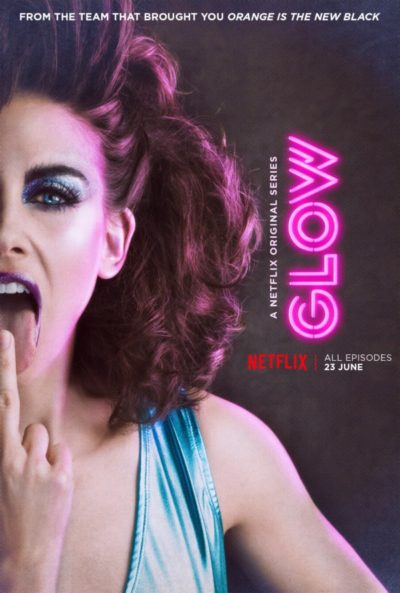 This is a great deal of fun, striking a very impressive balance between the drama, comedy and – to my surprise – the wrestling elements. For the show does a particularly good job of explaining both the appeal of the sports entertainment in question, and the work that goes in to making it look good. Here, it probably helps that real wrestlers were involved: Chavo Guerrero was the main consultant, and his uncle, Mando Guerrero, helped train the original GLOW ladies in the eighties. Fans will also spot John Morrison/Johnny Mundo, Brodus Clay, Carlito and Joey Ryan in various roles. It's not at all a parody of the sport; to a significant degree, the original GLOW felt like that. But it also does extremely well at linking the wrestlers and the characters they play, and showing how the latter evolve and develop out of the former.
So Ruth becomes "Zora the Destroyer", a Soviet antagonist to Debbie's All-American "Liberty Belle", whose frosty face-offs mirror the women's real-life grievances. It's these, along with the other characters, who are the show's greatest strength: even relatively minor supporting ones are deftly sketched, and feel like real people, rather than caricatures. Special credit to Maron, who takes a character that could be a real bastard (far and away the most significant man) and gives him depth and humanity. Yes, he can be that bastard – but he knows what he's doing, and genuinely cares about making the show the best it can be, even if he has to tread on a few toes to get there. Having been on the fringes of both B-cinema and independent wrestling, we're aware of how true to life that is, and based on the doc, it doesn't appear too different from Matt Cimber, the show's actual director.
The two lead actresses did virtually all their action – there was occasional use of stand-ins, but mostly for reasons of fatigue. Brie said, "Wrestling matches are meant to be done once a day for maybe 20 minutes. But then we would shoot them for 10 to 12 hours so our stunt doubles became our tag team that we could tag in when we needed a rest." Otherwise, it's almost all the actual women, and that adds a level of authenticity to proceedings that helps. If no-one's going to mistake the pair for Manami Toyota and Akira Hokuto, they're perfectly credible, given the original show's undeniable limitations in the area of actual wrestling.
If you're a child of the 80's – and those were my teenage years – you'll be in heaven, as this is a true period piece, from the music, through fashion, to things as basic as telephones. With wires. Attached to the wall. [It was a dark, dark time…] There is an occasional tendency to drift into feminist showboating, and some of the off-GLOW drama feels more like it comes from one of Debbie's soaps. Otherwise, this is near-perfect, and certainly the best truly original series which Netflix have produced to date.
Created by:: Liz Flahive and Carly Mensch
Star: Alison Brie, Betty Gilpin, Marc Maron, Sydelle Noel