"Queen of Arts"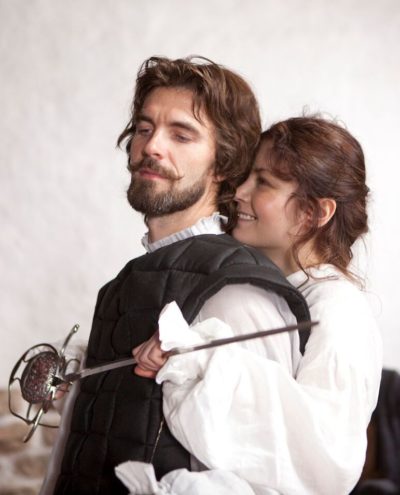 This isn't the first biopic about Christina, Queen of Sweden from 1632 to 1654. Most notably, Greta Garbo played the role in 1933's Queen Christina, though one sense the focus here is rather different. Certainly, she's an interesting character, the only child of King Gustav II Adolph. She became queen at age six on his death, then was brought up as if she were a prince, taking over actual rule on turning 18. She caused major ructions with the established order with her plans to end the Thirty Years' War, educate the population and turn the capital city, Stockholm, into the "Athens of the North". It didn't help her case in a strongly Protestant Sweden and a very fraught religious time, that she was influenced by Catholic writers such as René Descartes. Nor her reluctance to marry, or the (according to this telling) passionate relationship with one of her ladies-in-waiting, Ebba Sparre (Gadon).
This focuses on the period between her 18th birthday in 1644 and abdication a decade later – she left the throne to her cousin, turned Catholic and headed off to live the rest her life in Italy. The film suggests this was largely a reaction to an enforced separation from Sparre, which is depicted as causing Christina a breakdown. [The mentally-fragile apple depicted, apparently didn't fall far from the tree. Her mother was barking mad, who preserved her husband's embalmed corpse for two years after his death and, again per the movie, made Christina kiss it good morning and good night] That seems a little too trite of an explanation, for someone who spoke nine different languages and was as much driven by admiration for her "virgin queen" predecessor, Queen Elizabeth I of England, as any passion.
It's more successful in documenting the struggle between Christina and the nobles who had no interest in an educated underclass, or even peace, the loot "liberated" from enemy countries being a major source of income. Mind you, the peasants aren't necessarily interested either: an amusing scene has the monarch about to quote Marcus Aurelius to them, when she's interrupted by an offer of free beer from a rather more down-to-earth adviser. The tension between a high-minded – possibly too high-minded? – queen and the realities of 17th-century European politics, would have benefited from additional exploration.
It would likely have been preferable to a rather uninteresting love affair, one which seems to say more about 21st century sexual politics than anything at that point. While I generally liked Buska's performance, there were a couple of points I felt like I watching a modern teenager, rather than one of the most well-educated women of her time. I have to think there was rather more to Queen Christina, than the slightly-unstable lesbian portrayed here, but the true depth of that character only occasionally pokes its head over the large dresses and even larger wigs seen here.
Dir: Mika Kaurismäki
Star: Malin Buska, Sarah Gadon, Michael Nyqvist, Lucas Bryant