"Why we don't camp, #273."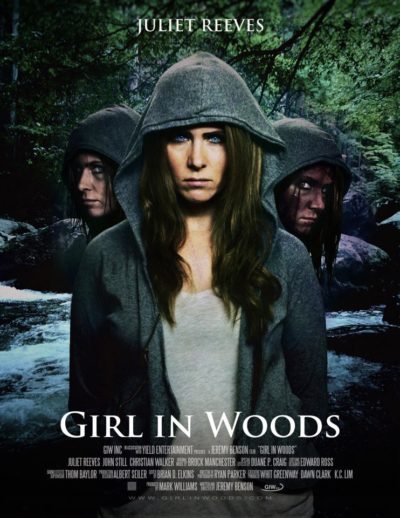 It's always interesting when reviews of a film are deeply polarized, and that's the case here. The first page of Google results run the gamut from "I simply despised the film as a whole" to "The images are frightening within, and the only thing better than the scares are the performances." While I lean toward the latter, I can see how this could have failed to make a connection with some viewers, and if that happens, then there isn't much else to prevent the former opinion. It's the kind of film where there isn't likey to be a middle ground in reactions.
Following an awful childhood trauma, Grace (Reeves) has grown up into a troubled soul, but has finally found some peace, through her boyfriend (not without his own issues) and pharmaceutical help. However, that's all shattered on a weekend trip to a cabin in the forest; on the way there, an accident (or was it?) occurs, leaving Grace stranded, alone, in the woods and very poorly equipped to survive. For what follows is a gradual and relentless shattering of her sanity, as the stress builds up and the drugs run out, and she tries to get out of her predicament. Grace's personality splits into three distinct versions of herself – then there's the darkly aboriginal creature who appears to be stalking her.
Meanwhile, we get flashbacks to Grace's life with her mother (Carpenter) and father (Perkins), shedding some light on the cause of her mental fragility. It's not much of a stretch to see Grace's lost physical state as a metaphor for her psychological one: the title (and yes, that is it – I didn't miss out a "the") suggests the same. Since her character is on screen in virtually every scene, it's a movie which really stands or falls on whether you buy in to Reeves's performance – or, more accurately, performanceS, since many of these have her interacting only with her other selves. After some shaky moments early on, I found the approach kinda crept up on me, and some of the three-way scenes are near-impeccable, both technically and dramatically.
When your story largely involves watching someone lose their mind, keeping it interesting for the viewer is not an easy task to pull off. Benson succeeds, even if you'll be reluctant to commit too far, because it's clear that what Grace remembers, and what actually happened, may be radically different things. There's a sudden effort at the end to tie everything together into urban legend, which I'm not sure is particularly helpful. It seems to come out of nowhere and feels like pandering toward a sequel. Trim those few minutes off, because you'll know the "true" ending when you see it, and it would be a tighter overall product. Yet, there's still enough of merit here to make it worthwhile, if admittedly this could be seen as merely confirming our strong preference against woodland wandering.
Dir: Jeremy Benson
Star: Juliet Reeves, Charisma Carpenter, Lee Perkins, Jeremy London