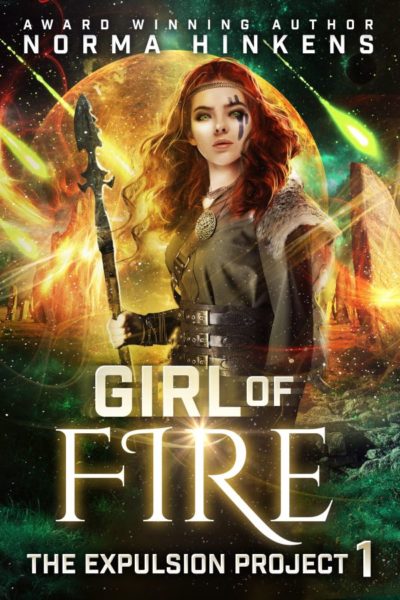 You might be forgiven for expecting something Hunger Games-like, given Katniss was referred to frequently as the "girl on fire," only one letter different from the title here. That really isn't the case at all: though both are, broadly speaking, science-fiction, instead of an urban dystopia, this is sprawling space opera. The heroine, 17-year-old Trattora, lives on Cwelt, a fringe planet largely overlooked and bypassed by the rest of the galaxy. She's a chieftain's daughter there, but was adopted, and is clearly different from the rest of her people; she yearns to find the truth about her ancestry.
Her chance comes in the form of a trade-ship, captained by the untrustworthy Sarth. For it's discovered that Cwelt is a source for dargonite, a mineral now in high demand for its use in cloaking technology. Before this can be announced, the planet comes under threat from the raiding Maulers, and Trattora strikes an uneasy bargain with the visiting captain, to sell dargonite in order to buy ships which can defend Cwelt. However, after an apparent double-cross, Trattora steals Sarth's ship from under her nose, and strikes out on her own, to take care of business – and also locate her biological parents.
The latter thread doesn't occupy much of this, the first volume in a trilogy called 'The Expulsion Project'. That title is explained at the beginning: proceedings open with her parents on Mhakerta, sending Trattora into space, in a last-ditch effort to escape the clutches of an all-powerful AI who has taken over their planet. The only thing Trattora has left as a link with her parents is a bracelet – when she finds a similar item belonging to Velkan, an indentured serf in Serth's crew, she realizes there are apparently others like her. But this book is more concerned with her attempting to sell the valuable minerals, and adapting to life in a universe very different from the one to which she is used.
The cover is rather misleading, since as soon as Trattora gets off the surface of Cwelt, she more or less abandons the "barbarian chic" aesthetic, as far as I can tell. Probably wise: carrying a spear around would likely attract undue attention in any space-faring civilization. Indeed, she largely avoids violence, hence the low kick-butt quotient. She still qualifies here, due to what would probably be described on her resume as "a pro-active approach to problem-solving, demonstrated ability at adapting to new situations, and proven leadership skills." She's certainly brave, prepared to risk everything to save her adopted home planet, loyal to her friends, and resourceful – all-round, she has the qualities of a good heroine.
I'm less convinced with the writing when it comes to the universe building, beginning with planet names which feel like the author made them up by pulling tiles from a Scrabble bag. You don't get much sense of a structured universe, despite the apparently overwhelming presence of "The Syndicate", a group whose power is vaguely ineffectual, except when necessary to the plot. This is where the "space opera" label becomes something of a double-edged sword. While I appreciated the brisk pace, Trattora and her pals whizzing from one incident to the next, the idea of a teenage girl hijacking a spaceship on her first trip off-world, from its far more world-wise captain, with most of the crew supporting her, was only one of a number of moments which stretched my credulity. It was just far too easy.
This probably falls into the category of a fun read rather than a good one, and is thoroughly disposable fluff. While there's nothing wrong with that per se, this likely panders a little too much in the direction of the young adult audience, to be entirely acceptable for anyone who has grown out of that group.
Author: Norma Hinkens
Publisher: Dunecadia Publishing, available through Amazon in both printed and e-book versions.