"Blue is the color; extortion, theft and other anti-social activities is the game."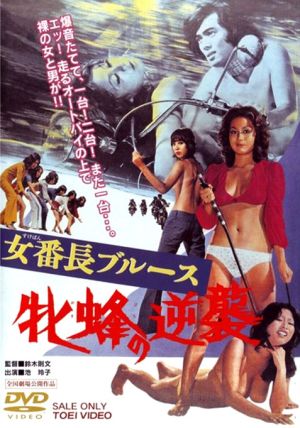 Reiko (Ike) is leader of the Athens Gang, a low-level all-girl gang, who specialize in car thefts and rolling naive salarymen with the lure of hot sex. They're part of a hierarchy, which includes a male gang under whom they loosely operate, who are in turn on the fringes of a Yakuza group. There's also a motor-cycle gang and its leader (Taki) who don't obey anyone, and that independence is really what Reiko wants, even though her group is obliged to follow certain rules, such as not getting attached to any man. Things are disrupted by the return of former leader Jun (Kagawa) from reform school: will Reiko be able to hold on to her position? It's just one of a large number of plot threads here: you also get the blackmail of a pop star; a hitman agreeing to one last mission; a gangster estranged from his wife and daughter; sex on motorcycles for no apparent reason; a journalist with a nose for scandal; and, of course Reiko failing to follow her own rule about no attachments.
That's more of a problem than a benefit here, as the threads are of significantly varying interest. Obviously, I'm not averse to see Jun and Reiko brawl for control, and the heroic muck-raking writer is actually an interesting figure, cheerfully admitting to what he does, but also believing he genuinely makes a difference by exposing sordid sex scandals. While I didn't realize how hierachical Japanese crime was, there are too many moments of earnest drama, that slow down what needs to be a fast-paced romped through the seedy underbelly of criminal life, and a couple of moments that are just laugh-out loud bad, such as when Jun asks for a farewell song from another gang member. What I want to know is, was the full orchestra she gets, hiding in a closet?
Despite the titles, which imply some kind of sequel, this was the first in a seven-film series, four directed by Suzuki. At this point, he still seems a little uncomfortable with the style, and there isn't the necessary consistency of tone to provide a smooth ride. Ike and Kagawa are both good in their roles, however. Right from the first encounter, and the traditional girl-gang greeting, their interactions are a nicely-crafted mix of tension and politeness, and you know it's only a matter of time until things finally kick off. When it does, this is indeed memorable. Otherwise, there's just a bit too much filling, at the expense of the meat.
Dir: Norifumi Suzuki
Star: Reiko Ike, Yukie Kagawa, Keiko Yumi, Shinsuke Taki
a.k.a. Queen Bee Strikes Again