"Shellfishly indulgent."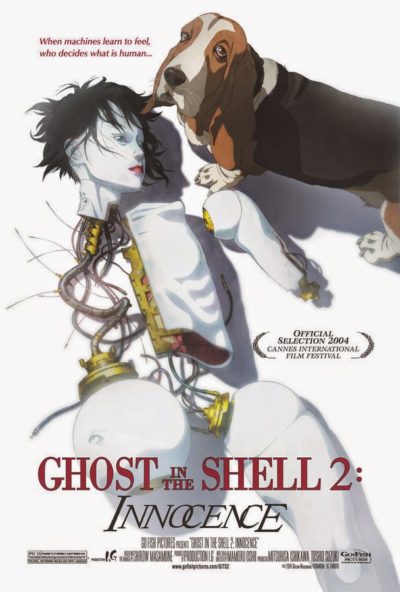 This is largely included purely for completeness: if this had been a stand-alone film, it likely wouldn't have qualified, not reaching the mandatory minimum quota of action heroineness. For in this sequel, Major Kusanagi (Tanaka) has abandoned even her artificial physical form, for life entirely inside the Internet. Her presence in this is therefore more spiritual, with Batou (Yamadera) referring to her as his "guardian angel", and her impact is more felt than seen – particularly in its ramification for Batou, whose degree of cybernetic enhancement is not much lower than hers. She only returns to a tangible persona in the final scene, where Batou has to take on a near-endless stream of combat-reprogrammed sex robots. My, that's a phrase I never thought I'd be writing…
So this is much more Batou's story, as he and the much-less enhanced Togusa (Ōki) investigate Section 9's latest case. In it, the "gynoid" sex robots created by tech company LOCUS SOLUS, are involved in a series of their owners' deaths, which have been covered up and settled quietly, out of court. Section 9 are brought in, over concerns the incidents are a prelude to a cyber-attack by terrorists. Instead, they discover human "ghosts" are being implanted into the gynoids, to make them more realistic. It eventually turns out LOCUS SOLUS, from their floating headquarters (conveniently in international water) have been kidnapping young girls, in order to repeatedly copy the victim's personality into their robots – a process which eventually drives the source insane.
It's quite a trip for Batou and Togusa to get there, however. They have to handle a very pissed-off Yakuza gang, whose boss was one of the gynoid victims – they don't respond well to Batou's style of investigation, shall we say. Then there's Kim, an ex-military hacker who can hack the pair's cyber-brain, and twist the reality they experience into a pretzel. This is where the mix of animation styles is perhaps at its best: Oshii opts neither for pure CGI nor traditional hand-drawn, instead combining them in a way that uses the strengths of each to good effect.
But it probably is too damn cerebral for its own good. Per Wikipedia, "quotations in the film come from Buddha, Confucius, Descartes, the Old Testament, Meiji-era critic Saitō Ryokuu, Richard Dawkins, Max Weber, Jacob Grimm, Plato, John Milton, 14th century playwright Zeami Motokiyo, the Tridentine Mass, and Julien Offray de La Mettrie, French Enlightenment philosopher and author of Man a Machine." This is a common problem for Oshii: see Avalon or Garm Wars, for other examples of his work which also struggle to hold up under the philosophical weight he throws onto genre fare.
Look, I'm not averse to intellectual concepts in film. But when it comes to action film, they need to be a garnish rather than the main ingredient – something to tickle the higher parts of the brain, while the lizard areas enjoy the spectacle and gratuitous violence. While those latter aspects are present, it comes with indigestible lumps of philosophy, that I would rather had been present in lesser quantity, if not left out of the dish entirely.
Dir: Mamoru Oshii
Star: Akio Ōtsuka, Kōichi Yamadera, Tamio Ōki, Atsuko Tanaka