"The ghostess with the mostest."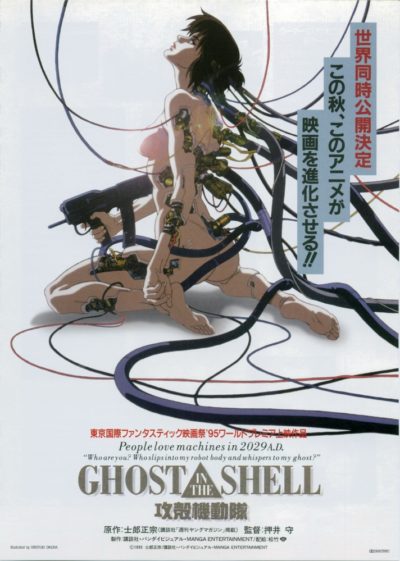 Renowned for its influence on just about every subsequent cyberpunk entity, from The Matrix to Westworld, this also remains one of the classic anime movies, more than two decades after its release. The main problem though, is the translation of a densely-packed and heavily notated manga series by Masamune Shirow, into an 82-minute action feature. You're left with something forced to cram the philosophical aspects into a couple of indigestible lumps – an approach certainly also adopted by the Wachowski Brothers.
It's set in a future Japan where cyborg enhancements have become the norm, to the point where some people are beginning to question what's left of their own humanity (the "ghosts" in the hardened artificial "shells"). Among them is Major Motoko Kusanagi (Tanaka), an assault-team leader in Section 9, a federal public security agency. They are attempting to track down the Puppet Master, a notorious hacker, who uses an automated facility to create an entirely artificial body. Section 9 discover that the truth about the Puppet Master's origins is closer than is comfortable, stemming from the actions of another government department and "Project 2501". But what, if anything, does this say about the Puppet Master's goals?
It's a rather uneven mix of high-paced action sequences and more leisurely scenes. Each work well on their own (helped immeasurably by Kenji Kawai's score), yet fall short of combining into a thoroughly cohesive whole. The Major might be rather over-fond of waxing philosophical, as shown in the following monologue, during a down-time conversation with her less-enhanced colleague, Batou (Ōtsuka), which feels more like the sort of thing I heard out of my fellow students – typically, the damn philosophy ones – at university, late on Saturday nights after the bar had closed.
Just as there are many parts needed to make a human a human, there's a remarkable number of things needed to make an individual what they are. A face to distinguish yourself from others. A voice you aren't aware of yourself. The hand you see when you awaken. The memories of childhood, the feelings for the future. That's not all. There's the expanse of the data net my cyberbrain can access. All of that goes into making me what I am. Giving rise to a consciousness that I call 'me'. And simultaneously confining "me" within set limits.
While certainly a good summary of the movie's main theme, it's the kind of thing best explored in a longer, more leisurely format such as the TV series which were to follow. Here, this kind of rumination seems a bit forced. More effective than the chat is the action. Kusanagi's talents and ability to take damage make for some glorious set pieces, such as her fight with one of the Puppet Master's host bodies, and a battle against a tank, possessing vastly superior fire-power. The look of the film is just glorious as well, combing traditional cel animation and computer graphics to an effect rarely, if ever, matched. There was an "enhanced" version which came out in 2008, with upgraded CGI; yet after two minutes, I switched back to the original, where the combination feels more seamless. It's certainly preferable to much modern anime – I'd rather have something try too hard to be smart, as here, than not try hard enough.
Dir: Mamoru Oshii
Star (voice): Atsuko Tanaka, Akio Ōtsuka, Iemasa Kayumi, Kōichi Yamadera