"A Dutch semi-treat"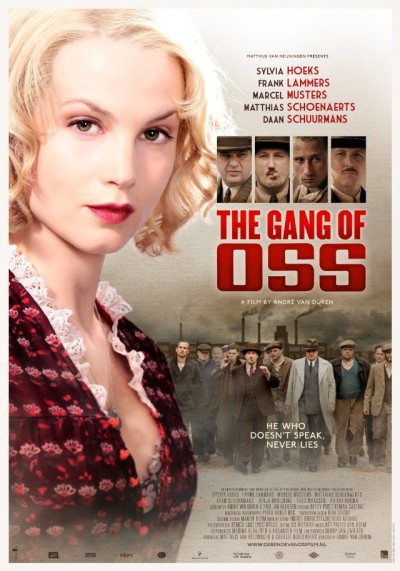 I never really think of the Dutch as the organized crime type, but this film convinces me otherwise, based as it is on actual events from just before World War II. Oss is a town in the Southern half of the Netherlands and, it appears, everyone there is on the take one way or another, from insurance scams to larger scale shenanigans, all the way up to the mayor and the local priest. The federal government has sent military police to the town to keep order, but that only rankles the locals, for the cops are Protestants and they are Catholics. Johanna (Hoeks) hopes to escape a life of crime, planning to open a restaurant when her husband, Ties (Schoenaerts), gets out of jail. But it's not as easy as it seems. Her spouse is happy to pimp her out, and local boss and Ties's uncle, Wim de Kuiper (Musters), drags him back into his old ways. When Ties tries to force Johanna to have an abortion, she hatches a plan to have him killed by her lover (and client), Jan, although the plan only puts her deeper in the clutches of de Kuiper. But when she discovers just how low he is prepared to go, she decides he and the rest of his cronies are going down.
I really liked Johanna as a character. She's comfortable enough with her position in life (even if normally, it's on her back!), but still aspires to rise above her lowly origins – and do so honestly, unlike the rest of the inhabitants. Her husband is basically a Grade-A shit, but she eventually finds the resolve to stand up against him, and take control of her own destiny. Admittedly, you wonder why it takes quite so long, given she's being forced to act as a prostitute by him – but, on the other hand, she quite happily refers to herself a "Johanna the slut", and appears to come from a lineage of similarly-inclined women. It's a nicely grey morality, and the same is true for most of the other characters; outside of Ties, they all have their own justifications for what they do.
I suspect some of the local atmosphere is probably lost outside of Holland – apparently, there's a particular accent/dialect used, which doesn't come across in the subtitles at all. And, as noted, it's just odd to see the Dutch, whom I've generally found to be polite and well-mannered almost to a fault, killing each other, being brutal, and generally behaving in a manner more befitting Chicago during Prohibition than the south Netherlands. That's less the film's problem than mine, though there isn't too much here which will be novel to anyone with a working knowledge of American mafia films, though having its focus on a woman, is certainly laudable. That, along with its strong local flavour, are enough to make this worth a watch, though outside of Hoeks' strong performance, there likely isn't much of long-term note.
Dir: Andre van Duren
Star: Sylvia Hoeks, Matthias Schoenaerts, Marcel Musters