"If you think wrestling is "fake" – think again…"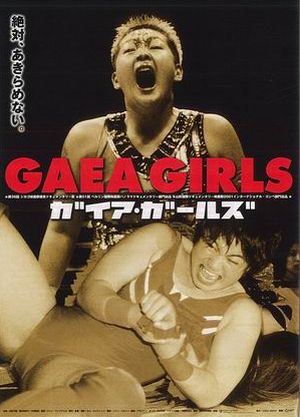 Out in the middle of the Japanese countryside is a square, unremarkable building that is the headquarters and training center for GAEA, one of the country's leading women's wrestling federations. Into this comes Takeuchi, making her second attempt to become a pro wrestler – the brutal training, under the glare of GAEA's top wrestler Nagaua, caused her to give up last time. Will her second attempt prove any more successful? Can she get through to the final exam, and pass it to become a full member of GAEA?
There are moments here whih are just jaw-droppingly savage. For instance, Takeuchi, after failing to deliver dropkicks correctly, is on the receiving end of a truly malevolent one, which you swear came close to decapitating her. The next scene has Takeuchi being berated by the trainers for her failings: only eventually does the camera pan round to show the rookie, standing there, blood dripping from her face. And the emotional abuse through which Takeuchi is put, is possibly even worse. As proof of the world of difference between "fake" and "staged," this is impeccable, and you can't blame the other wannabes, who opt to leave, when they realize exactly what they're in for. The grind behind the showmanship of pro wrestling has never been so well depicted.
The film's weakness is the lack of background – and it's significant, unless you're fairly well-versed in the world of joshi puroresu. For instance, it's never mentioned that Nagayo was one half of the Crush Gals, whom even Wikipedia calls "possibly the most famous and beloved women's tag team of all time." Without that knowledge, it's hard to understand the respect she has, and why trainees put up with so much from her – indeed, though we see Nagayo in action, there's nothing to indicate the elevated position she has in the sport, an icon of eighties Japanese pop culture. Similarly, there's very little effort to probe into Takeuchi's desires and dreams: why is she willing to go through this hell? I know enough about wrestlers and wrestling to have some idea, but for the uninitiated, I suspect the documentary will raise as many questions as it answers.
Dir: Kim Longinotto and Jano Williams
Star: Saika Takeuchi, Chigusa Nagayo, Meiko Satomura, Yuka Sugiyama