"The training Jane stays mainly in the pain…"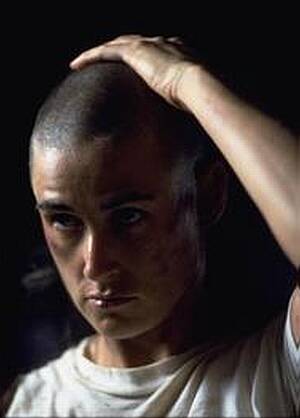 The opening hour of this must be great entertainment for sadists, watching Demi Moore get pummelled, ground-down, chewed-up and beaten into a bloody pulp by the war machine, as part of Navy SEAL training. The first woman to go through it, she could open the door for others if she succeeds – which is exactly why the stops are pulled out to ensure she fails. While the most obvious face of this is Master Chief Urgayle (Mortensen – his character here would eat Aragorn for lunch), her political mentor Senator DeHaven (Bancroft) also finds the pressure coming down to pull the plug on this social experiment. But Jan…er, Jordan O'Neil (Moore), won't give up at any cost, demanding absolutely equal treatment. Of course, after what seems like a 75-minute training montage, she wins the respect of her colleagues, overcoming the Senator's intervention thanks to a peskily imperfect fax machine.
An eye-poppingly brutal look at what our soldiers go through (leaving me with even more respect for them), it's the second half where the movie kicks into life. Their final training mission has the SEALS diverted to Libya to help recover a device containing weapons-grade plutonium. This "no man left behind" would be revisited by Scott – and cranked up to the max – in Black Hawk Down, but the restraint he shows here is a lot more effective. To me, showing ability in a combat situation, as our heroine does, would seem a better way of obtaining the admiration of your fellow soldiers – rather than telling Urgayle to "Suck my dick!" But, hey, I'm a civilian, and very happy to be one, so what do I know? It's a shame there wasn't a resulting franchise; as the last hour shows, there is a lot of potential for development, with O'Neil kicking butt in a variety of exotic foreign locals. However, at 43, Demi Moore is perhaps too old these days. What's Jessica Alba doing?
Dir: Ridley Scott
Star: Demi Moore, Viggo Mortensen, Anne Bancroft, Jason Beghe