"…and I've got a black belt in bar-stools!"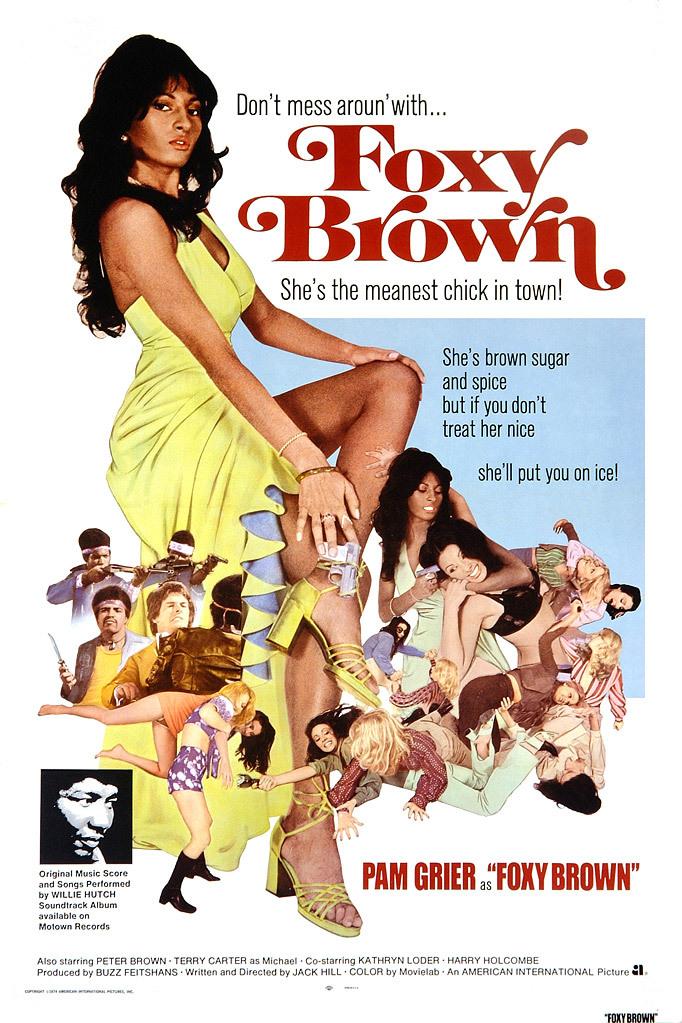 Brown (Grier) has a drug-dealing brother Link (Fargas), who works for a mob run by Steve Elias (Brown) and Katherine Wall (Loder). He tells them where to find Foxy's boyfriend, a former undercover cop, a betrayal which leads to the latter's death. Understandably peeved, Foxy works her way in to the gang responsible through their modelling agency, a prostitution front used to keep happy the judges and politicians who protect them. But when her presence is discovered, she's shot up with heroin and sent off to the ranch where they package the smack. Does that stop her? Hell, no.
Following on from the success of Coffy, director Hill teamed up again with Grier – this was originally intended to be a sequel, under the original title Burn, Coffee, Burn! but AIP decided to make a new character instead, albeit with more or less the same script. There's no shortage of grindhouse material, with neither the nudity nor the violence being soft-pedalled: interestingly, given this, the heroine doesn't actually kill either villain, though you could certainly argue Elias, in particular, suffers a fate worse than death. The plot and characters have stood the test of time well, even the scummy Link, who has a pretty compelling explanation for his life of crime: "I'm a black man, and I don't know how to sing, and I don't know how to dance, and I don't know how to preach to no congregation. I'm too small to be a football hero, and too ugly to be elected mayor."
It's an improvement on Coffy in a number of ways, with Grier more self-assured, and Hill apparently having a better handle on things as well. While it has been criticized for race-baiting – there are literally no good Caucasians – I'm as white as they come and it feels more like an attack on established power. The supporting cast also deserve credit, with Brown and Loder appropriately sleazy, Sid Haig being Sid Haig, and Juanita Brown deserving mention as another prostitute. Lots of moments here to treasure, including a spectacular death by propeller, Foxy hiding a gun in her afro (!), and a lesbian barroom brawl that's glorious, which leads to the line at the top of the review. Among the dykes there, are Stephanie and Jeannie, stuntwomen from the famous Epper clan. with the latter a mentor to Zoë Bell.
But this is Grier's show, and she carries it magnificently, even if at times it feels more like she is modelling the Foxy Brown fall collection, rather than engaging on a roaring rampage of revenge. [Some things about the seventies are likely best left there: the fashions would be one of them!] That's a minor complaint, as what we have here is an iconic heroine, who has rarely been matched in the 40 years since, for her combination of heart and brain, courage and empathy, all wrapped up in one seriously kick-ass package.
Dir: Jack Hill
Star: Pam Grier, Peter Brown, Antonio Fargas, Kathryn Loder