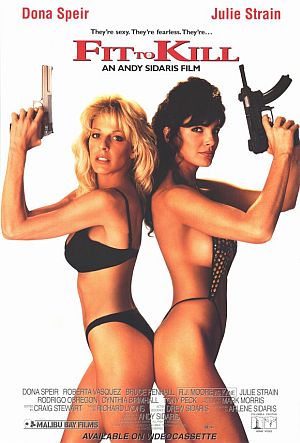 Hang on, two movies ago, criminal mastermind Kane was Japanese – now, he's the son of a Nazi officer who went on the run after the war with a diamond stolen from the Russians? I know I'm watching these all of our order, but still… They even refer to a pendant with a tracking device in it, given to the Japanese version of Kane, even though Moore now appears to be channeling Julian Sands, not Pat Morita. I'm so confused. Still, logic, continuity and coherence are not really the point here, are they?
This centres on said diamond, which a Chinese businessman plans to return to the Russians. When the jewel is stolen during a ceremonial party, Kane's presence makes him the obvious suspect, not least because he has hired infamous assassin Blu Steele (Strain), turning her to his side after her attempt to kill him is foiled by a bulletproof vest. However, is everything what it seems? It's up to Donna and Nicole (Speir + Vasquez), and their friends, to solve the puzzle, while dodging remote-controlled attempts to kill them (including a particularly-dumb pair of assassins known as Evel and Knievel), pausing only for changes of costumes, hot-tubs and the occasional spot of soft-core love-making. In other words, business as usual for a Sidaris film.
There's a cheerful innocence to much of the nudity here, which harkens back to the 60's, e.g. the radio station receptionist who has a hot tub as her desk, in which she sits topless. I actually prefer this approach to the more "intimate" scenes, and the relatively intricate plot also helps make this aspect a cut above [Kane and Donna end up having to work together after both are captured, which marks the first time I've genuinely been surprised by a Sidaris storyline development]. However, it does flag in the middle, and the obsession with remote-controlled models is not one I personally share, though overall, this still remains one of the better productions, with Strain fitting in perfectly as a villainess.
Dir: Andy Sidaris
Star: Dona Speir, Roberta Vasquez, R.J. Moore, Julie Strain