"Hannah and her sister…"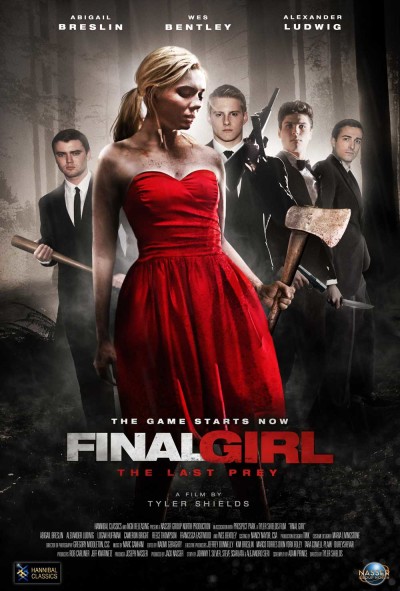 The 'final girl' is a concept familiar to horror fans, being the last survivor who confronts the killer at the end, and typically defeats them (until the sequel, anyway!); mostly chaste, intelligent and resourceful, examples could include Ripley from Alien, Laurie Strode in Halloween, and one we've previously reviewed here, Erin in You're Next, which somewhat subverts the concept. This movie, boldly claiming the trope for its title, goes further down that road, but I'm not sure it does so with as much assurance or wit. Set mostly in a deliberately-indeterminate time (judging by the fashions, the fifties seems a reasonable guess), it begins a decade or so earlier, with new orphan Veronica being quizzed by William (Bentley) as to whether she'd like to learn a "special" job. Fast forward 12 years, and she is about to go on a mission: taking care of four thoroughly unpleasant, upper-class young men, who have formed a "killer's club," that takes young, blonde women out to the woods, then hunts down and murders them. But in Veronica, they're going to find themselves taking on a victim more than capable of handling herself.
It's the annoying gaps here that manage to derail a potentially great idea. We never know who William is, or quite what happened over the following 12 years; in some ways, Veronica is remarkably ill-prepared for the events that unfold, so it doesn't seem like she was training full-time. Nor can this have been the goal all along, given the killers are hardly any older than Veronica herself. And once she is finally taken into the forest, having successfully "flirty fished" for the gang of four, there is an overlong scene of them sitting around playing Truth or Dare, which sheds zero light on proceedings, and offers no insight into the characters on either side. It's a good example of a film not being as smart as it thinks. However, good to see Breslin, whom we've wanted to adopt since Signs, shifting into more mature roles, and she does well, adding credibility to some of the more ludicrous plot elements e.g. a drug that causes you to hallucinate your worst fears. C'mon, that's barely even trying.  It was also nice to see Cameron Bright as one of the killers; I think the last thing I saw was him playing the carrier in Ultraviolet opposite Milla Jovovich.
The forest scenes is lushly photographed, and once things finally kick off, the payback is decently delivered. It just takes too long to reach that point, and of all the ways the concept could have been used, Shields and the four writers apparently chose the least interesting path. You can tell it's the director's first feature, and while his background gives him a good handle on the visual aspects, the script is too weak for any amount of style to cover up the cracks.
Dir: Tyler Shields
Star: Abigail Breslin, Wes Bentley, Logan Huffman, Alexander Ludwig