"If you see only one Danish/Muslim action-heroine kung-fu film this year… It'll be this one. Almost for sure."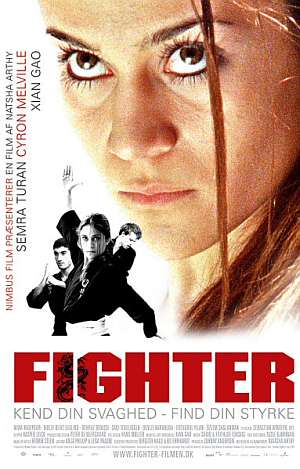 Certainly one of a kind, this coming-of-age film tells the story of Aicha (Turan), a Muslim girl born of Turkish parents, who is obsessed with learning martial arts – the last thing her father wants. This thoroughly unfeminine interest, in the eyes of her community, is carried out in secret, but Omar (Banissi), a friend of her brother's fiancee's family finds out, and is thoroughly unimpressed. "I don't fight girls," he says dismissively, when ordered to spar with Aicha, and this leads to his ejection from the club by their teacher (Xian). When he confronts Aicha at the engagement party, the resulting argument becomes a brawl, and leads to the breaking off of the engagement – which is doubly unfortunate, as the bride-to-be is discovered to be pregnant. Meanwhile, Aicha has to prepare for an upcoming tournament, alongside her training partner, Emil (Melville) – and for which Omar has also signed up as a contestant.
There's a good deal of this which feels borrowed from The Next Karate Kid, and if you can not predict how the tournament unfolds, you definitely need to watch more movies. However, the cultural backdrop gives this a freshness not found in the actual storyline. While women may have made huge strides in many parts of the world, it's clear that there are still societies where subjugation is almost a norm, and female members of such societies have to struggle to obtain rights and freedoms taken for granted in many places. Here, Aicha's fondness for martial arts is bad enough; but her presence in a mixed class, in close contact with those of the opposite sex, is enough to get her labelled a cheap slut. This is not an exaggeration: recently, here in Arizona, an Iraqi immigrant ran over and killed his daughter, allegedly because she was becoming "too Westernized." In the light of incidents such as this, the film seems almost to understate the situation if anything.
Turan is a martial-arts expert with no professional acting experience and that's occasionally apparent. While the fight sequences are put together and executed with grace and power, she does seem to struggle when asked to deliver more than the shallower emotions. The rest of the cast are up to their tasks, even if the roles are perhaps not much more than broad stereotypes. Still, it's different from the norm, and is definitely worth a look, as a reminder that action heroines are not only found in the most obvious of locations or cultures.
Dir: Natasha Arthy
Star: Semra Turan, Cyron Bjørn Melville, Behruz Banissi, Xian Gao