"The Four Musketeers: The Next Generation."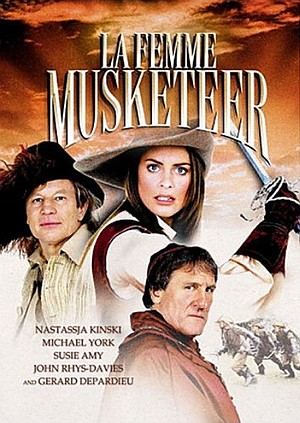 While not the first film to give D'Artagnan a daughter – the fairly self-explanatory D'Artagnan's Daughter got there a decade before, with Sophie Marceau in the role – this is still entertaining enough, though at 171 minutes, probably too long. Valentine (Amy) heads to Paris to join the King's guards, only to find herself framed for murder after coming into possession of a letter that could bring down the monarch. Fortunately, the other Musketeers also had children who followed in their father's footsteps, so she has help as she tries to thwart the evil plans of Cardinal Mazarin (Depardieu) and his henchman Villeroi (Pirae).
If its origins as a two-part TVM are largely apparent, there's enough fun to be mined from the experience here to keep things going, not least Michael York reprising the role of D'Artagnan, which he played in the 70's classic movies. Their offspring are similarly nicely-drawn caricatures, and Amy has a feisty quality about her that's fitting, though quite how she is mistaken for a man escapes me. The film does try to do too much, plotwise; believing the letter isn't enough to sustain it, the script also throws in a Spanish princess, travelling to Paris to meet with King Louis, and perhaps stop the war between the two countries. This requires much searching of the French countryside [actually, Croatia] and drags things out to no great purpose. On the other hand, the lack of any serious romance to bog things down any further, came as a pleasant surprise.
Amy holds her own in the swordfights, even if Boyum is overly fond of playing with the film speed, and often needs to move the camera back a bit further. We were looking forward to a nice catfight between her and Nastassja Kinski, who plays another one of Mazarin's minions, with a nice line in poisoned hatpins. Don't get your hopes up; instead, the climax pits Valentine against Villeroi. The accents on display are also all over the place: Depardieu is the only one who sounds French, obviously – except, his character is actually Italian! If you can cope with that, and the inherently nonsensical nature of the central concept, you should be okay with this.
Dir: Steve Boyum
Star: Susie Amy, Marcus Jean Pirae, Gérard Depardieu, Casper Zafer