"Because a baby is for life – even if the Yakuza think otherwise. "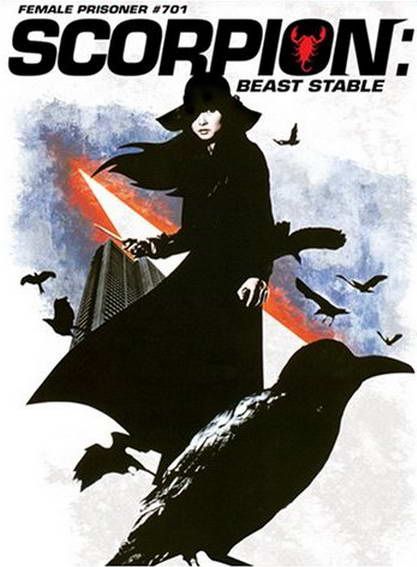 When this begins, Nami (Kaji) is on the run, and slices the arm off Detective Kondo (Narita) after he handcuffs himself to her. She befriends street hooker Yuki (Watanabe), who runs foul of the locak Yakuza gang by turning tricks on their turn, while trying to care for her brain-damaged brother, whom she also services sexually, to stop him from raping women(!). After Nami is involved in the death of a gang member who was blackmailing her, the gang's madam Katsu (Lee), who knew the Scorpion from her own prison days, captures her, locking our heroine up in a literal big bird-cage. But after the true horror of the Yakuza's treatment of their women is revealed (it starts with a golf-club going where no golf-club should ever go), Nami escapes and carves a bloody path of revenge on those responsible. When Katsu realizes what's going on, she turns herself in to the police, figuring jail will be safe from Sasori's wrath. Take a wild stab in the dark… Which, by coincidence is exactly what Katsu deserves.
There are some angles to this I liked. For instance, the way that Nami is taking revenge here, less for herself – really, she gets off pretty lightly, in comparison to the previous two installments – than for others. I also enjoyed the way she… Well, I'm reluctant to spoil it, but let's just say, she takes care of Katsu and Kondo without getting her hands dirty. However, the positives are largely balanced out by Yuki, who is one of the more irritating and pointless creatures in cinematic history. Her life appears to be a litany of bad choices, and the film seems to realize how tiresome she is: in the second half, she's largely relegated to flicking lit matches into the sewer where Nami is hiding out (in a fetching blue dress, it has to be said).
This would be Ito's last entry in the series: he'd later go on to direct Gray Sunset, which beat out Kurosawa's Ran to become Japan's official Academy Award entry for the Foreign Film category in 1985. He seems to have reined in some of his more stylish visual excesses here, which is a bit of a shame, as that's one of theings which helped elevate this series above the level of generic exploitation. This certainly delivers on the sleaze front [yet could be seen as pro-life, an interesting combo!], but at least in the first half, doesn't have a great deal more to offer.
Dir: Shunya Ito
Star: Meiko Kaji, Mikio Narita, Yayoi Watanabe, Reisen Lee