"Credits includes "Parachute jump suits for Miss Welch by…" 'Nuff said."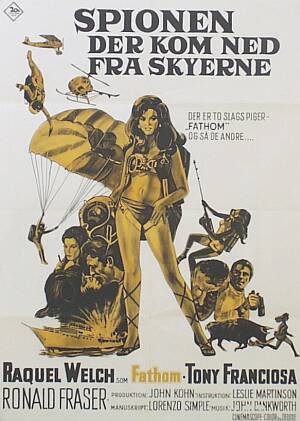 Released five years before Jennifer Garner was even born, there are some odd similarities between this 1960's time-capsule and Alias:
A girl is plucked to work as a secret agent…
…for a group that may not be all it seems…
…and is tasked with a perilous mission…
…which involves exotic gadgets…
…not to mention running around a lot…
…in a variety of interesting costumes.
Hmmm.
After an excruciating opening sequence, with what feels like a real-time jump from 30,000 feet, parachuting dental hygienist (!) Fathom Harvill (!!) is recruited by HADES to find a lost nuclear detonator. Which might not be nuclear, or a detonator, and which two other interested parties are also keen to find. The latter aspect is where the film is most entertaining, twisting and turning in its second half like a frantically fruggin' go-go dancer. There's also entertainment to be had in seeing a very young Richard Briers: I kept expecting Penelope Keith to peer over the bushes.
Chronologically between Modesty Blaise (with whom it shares a composer and Clive Revill) and Barbarella, its attitude fits there too. To modern eyes, Fathom is very passive, doing little except run; a little karate would have helped. It's all hugely Sixties, wouldn't stand the slightest scrutiny, and wobbles precariously near camp – as you'd expect from the original Batman director. The music is excruciatingly easy-listening: at one point, Welch halts it by taking the needle off a record, and I hoped that'd be a running gag. I was disappointed, but just can't bring myself to dislike any movie with explosive ear-rings.
Dir: Leslie H. Martinson
Star: Racquel Welch, Tony Franciosa, Ronald Fraser, Richard Briers