"The Farce and the Furious."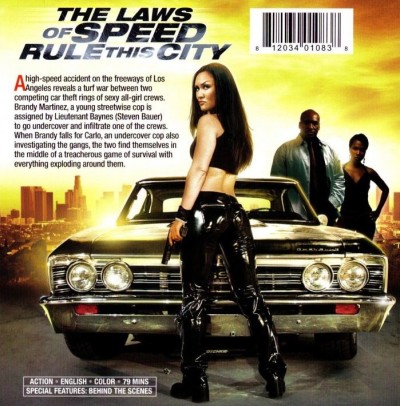 After a freeway chase ends in a fatal crash, a policewoman (Lizette) goes undercover to infiltrate the warring gangs of car thieves responsible. As "Baby" Martinez, she helps Eve (Lethridge) evade capture by an irate car-owner and, as a result, is recruited to join  the all-female group of which Eve is a part, operating under the protection of Mama (Olivia Brown). However, Eve has a past to contend with, having defected from the gang led by Knight (Parker) – and worse still, taken his classic car with her. Unknown to her, the trunk holds a stash of drugs, whose loss leaves Knight feeling the heat from those in the criminal food chain above him. As a result, he's prepared to go to any lengths to recover his property.
It's not very exciting, in part because it's painfully obvious that all the cars used here, clearly had to returned to their owners in the same condition in which they were received. Thus, this is a movie about stealing fast cars, in which no-one goes very fast, or even bumps into anything, which kinda dilutes the point of having them to begin with. The low budget is also apparent elsewhere, with a lot more dialogue than action, and people doing a lot more talking about stuff, than actual stuff. The performances are a bit variable. Lizette is okay as the lead, and I'd actually like to have seen more of Mama, whose potentially interesting back-story deserved further development. On the other hand, Parker [whom you may recognize as Dozer from The Matrix] appears to be trying way too hard to channel the late Michael Clarke Duncan, and across the board, we get a bit too much posing and not enough acting. Stephen Bauer plays the police detective supervising the operation, and literally phones in half of his lines, since he seems to spend most of his time on the police radio.
There's some dubious logic here, with supposed boss Knight doing far too much of his own dirty work – that's why you have minions – on the way to a finale where the guns finally come out, and the police conveniently show up at just the right moment. I went into this with minimal expectations, of little more than 75 minutes time passing without me sliding into unconsciousness. It just about managed to reach that low-hanging standard.
Dir: David Betances
Star: Melina Lizette, Anthony Ray Parker, Kenyetta Lethridge, Steven Bauer