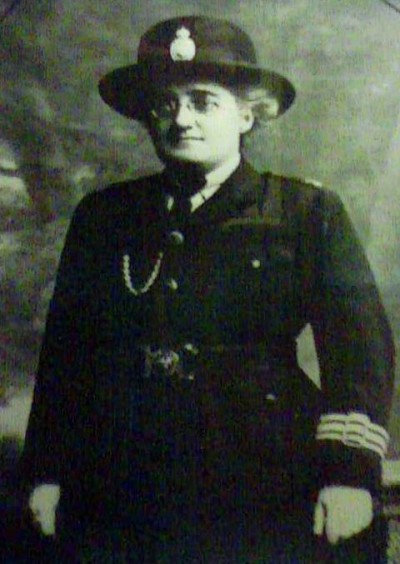 This month marks the 100th anniversary of the first British female police constable with the power of arrest, Edith Smith (right). The documentary below looks back at the history of women in the police force over the past hundred years, and how the role, attitudes (of both the public as well as their male colleagues) and even the uniform has changed during that time. Interesting to discover that the organized format started as the result of two effectively "vigilante" groups, who were formed to carry out volunteer patrols. One was mainly suffragettes, who were also fighting at the time for the right to work; the other, more genteel group of middle-class ladies, were the ones who obtained official sanction. At this time, the Great War was taking place, and just as World War II opened the doors to women in many areas, so did this conflict, with a large percentage of the male population being enlisted into the armed services.
Initially, women constables were tasked solely with handling children and other women – one of Smith's main tasks was to address the prostitution problem, due to the large army presence near the town of Grantham where she was stationed. There were also restrictions which were not applied equally to men: they were forced to quit the force if they got married, it being deemed incompatible with the job. Some of these took a very long time to overcome; it wasn't until 1994, for example, that policewomen in Northern Ireland were allowed to carry firearms for personal protection, something which had long been standard practice for men. But slowly, and not without some push-back, doors opened to other fields, from detective work through to the specialist units, and now certain areas have a majority female presence, such as the mounted police. Now, there is no separation at all, something the film does acknowledge as not without its issues, in particular leading for a time to a horrendously primitive and uncaring approach to rape victims.
I think what I enjoyed most were the anecdotes told by the various women who had served, about their time in the police-force, and how they handled the situations in which they found themselves, which does a good job of bringing out the human side of the topic. Virtually every one of these officers comes over as resilient – likely a necessary attribute, I would imagine! – and sharp; the men interviewed largely praise the womens' skills and abilities as equal to their own. It's not a job I imagine is ever easy, and you'll probably leave this film with a new-found respect for the women who take it on.