"No-nonsense crypto-fascist cinema."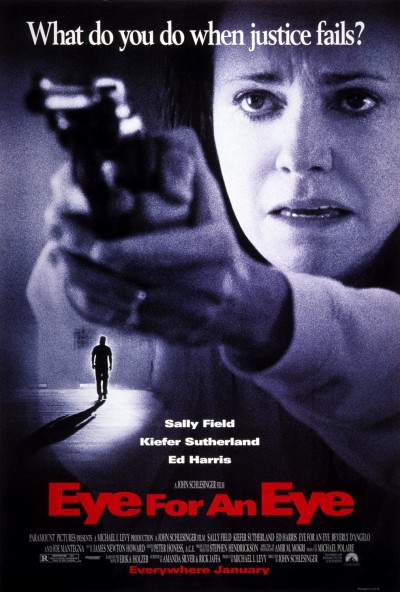 Subtle, this ain't. But if you're looking for a knee-jerk tale of vigilante vengeance, when the lily-livered justice system has failed, kowtowing instead to the "rights" of the guilty… This has certainly got you covered. Karen McCann (Field) is on the phone with her teenage daughter, planning a birthday party, when their call is interrupted by the arrival of serial rapist and murderer, Robert Doob (Sutherland). Karen can only listen as her daughter is brutalized by Doob, then bludgeoned to death with an ice sculpture. While his DNA is found at the scene, Doob walks because of a prosecutorial blunder, leaving Karen and husband Mack (Harris) aggrieved, and investigating detective Joe Denillo (Mantegna) powerless to help, even when Karen follows Doob and finds him apparently preparing to strike again. She joins a support group for those who also lost their kids, only to discover some of the members have an additional agenda; to help each other take revenge, where the law has been unable to do so. However, it turns out the FBI have also been monitoring the group, so what is Karen to do?
It's entirely straightforward, pitting the perfect American family against an utter sleazeball; Sutherland is extremely creepy in his portrayal of Doob, and it's quite eye-opening if you're more used to him as (the similarly crypto-fascist) Jack Bauer. This reaches its apex when Doob confronts Karen and her surviving six-year-old daughter, Megan, whom he has been stalking, and whispers to the mother, "I don't even really like kiddie pussy – but I'm willing to make an exception…" Yeah, I think that was probably the point at which the last vestiges of my liberal sensitivities checked out, and I could throw myself fully behind Karen's mission. Just don't expect anything approaching moral balance, or philosophical insight: this is rabble-rousing cinema at its most elemental. Which isn't necessarily a bad thing; it's following in a long line of such movies, going back at least as far as Dirty Harry in 1971.
On the other hand, I can't really argue with Roger Ebert, when he wrote, "Movies like Eye for an Eye cheapen our character by encouraging us to indulge simplistic emotions – to react instead of analyzing."  For this certainly is simplistic, and if Sutherland is impressively one-dimensions as the villain, Field is less convincing as Karen, in what needed to be a rather more nuanced performance, if it was going to rise above the material [There's also an unexpected cameo from Cynthia Rothrock, of all people, as her self-defence teacher]. However, not all cinema needs to be "deep" or "thought-provoking," and Schlesinger clearly has no such aspirations. Even if the targets here are hung low, it still hits more than it misses.
Dir: John Schlesinger
Star: Sally Field, Kiefer Sutherland, Ed Harris, Joe Mantegna