"Not so much ass-kicking, as ass-licking…"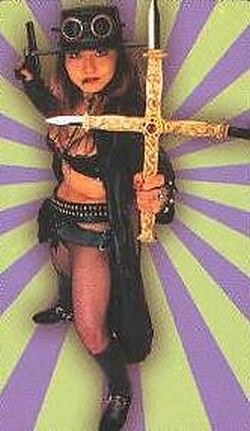 Do not, under any circumstances, confuse with the similarly-titled episode of The Simpsons where Lisa gets possessed by the spirit of Madonna. Because this is basically a live-action version of infamous tentacle-porn series, Legend of the Overfiend. Just what the world needs, you're probably thinking, but compared to most of the genre, Overfiend had an epic sprawl to go along its obscene imagination, and with modern FX, there's no reason it couldn't be done. [Shouldn't, perhaps…] They could make the heroine as cool as the one here: a motorbike-riding, cigarillo-smoking huntress with a wide-brimmed hat and a switchblade crucifix, taking on demons whose means of entry to Earth involves schoolgirls and sex.
Unfortunately, this fails on two counts. Firstly, the minor, largely forgivable matter of budget; instead of tentacles, for example, we get what appear to be vacuum-cleaner hoses on strings. If you can't afford to stage interdimensional battles…don't. Secondly, the lengthy sequences of hardcore (even with the pixillation of genitals required in Japan), for this is, first and foremost, a porn flick, make no mistake about that; I should perhaps mention, the schoolgirls are all clearly in their 20's. This is simply dull, bringing the film to a grinding halt for about half the running-time, which is a shame; there's enough imagination to suggest the idea has potential.
I believe four episodes were made. The second is supposed to be the best, and it's in our unwatched pile, though I think part one has already tried Chris's patience sufficiently for this week! Nakano also went on to make Sumo Vixens, starring Kei (Weather Woman) Mizutani, which (unlike the Exorsister series) has received an official American release, and would appear to be exactly what it sounds like.
Dir: Takao Nakano
Star: Karin Tsuji, Kaoru Nishida, Kazuki Taniguchi