"In which Salma Hayek suffers from an apartment complex."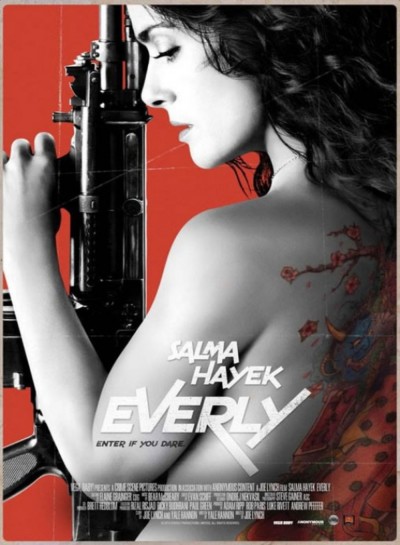 Not sure how this managed to escape attention in our 2015 preview, because it's hard to think of a film more directly positioned in our wheel-house. This unfolds entirely in a single building, close to real time, the vast majority of it (as with 2LDK) in one apartment, where Everly (Hayek) has just been outed as betraying her boss, a ferociously vicious Japanese mobster called Taiko (Watanabe). Desperately, she calls her mother (Cepeda), begging her to take Everly's daughter out of town, but when that route is closed, they're forced to hide out with Everly in the apartment. It's not much safer, for Taiko has offered a bounty to anyone in the building willing to take down his turncoat – and also some increasingly-deranged professionals. Meanwhile, we also find out more about Everly's history, which includes four years trapped in the apartment building as a sex slave for Taiko and his cronies.
Lynch has described this as Die Hard in a room, with Hayek instead of Bruce Willis. Despite sharing a similarly "ironic" Christmas setting, it isn't: Lynch may wish it were, but the pacing is nowhere near perfect, the script isn't as engaging, and whatever Watanabe's qualities are, he's no Alan Rickman. Not to say that it's a bad film at all, especially considering this wasn't originally supposed to star Hayek. Back in February 2012, Kate Hudson was announced as headlining the cast, before being replaced 15 months later by Salma Hayek. One can only wonder what difference that might have made, because her replacement certainly takes the role and owns it. [Side note: she's only a couple of months younger than me. Damn…] It's also gleefully and gloriously R-rated, not skimping on the bad language or hyperviolence, resulting in a comic-book feel which works nicely.
However, this leads to problems with the script, right from the opening sequence in which an apparently untrained Everly takes out, with unerring accuracy, an entire room of gangsters. Given her supposed prisoner-like status, it also proves remarkably easy for her mother and daughter to join her, basically swanning into the building on the pretext of visiting someone on another floor. And, to be honest, some of those who lay siege to our heroine aren't as amusing as Lynch and scripter Yale Hannon seem to think, with the Sadist (Igawa) in particular overstaying his welcome. On the other hand, the lack of any romantic interest is refreshing: the only vaguely sympathetic male character is a Japanese man, and he spends his entire screen-time bleeding out on the sofa. It probably needs to be more unrelenting and with a better sense of escalation: as is, the film peaks in its opening 10 minutes, when it seems killers are popping out from everywhere. However, it's been a while since we've seen Hayek in an action role: between this and Bandidas, she has done a good enough job, it's something I wish we got to enjoy more often.
Dir: Joe Lynch
Star: Salma Hayek, Hiroyuki Watanabe, Laura Cepeda, Togo Igawa