"Known as Terminator Woman in Spain, I can see their point."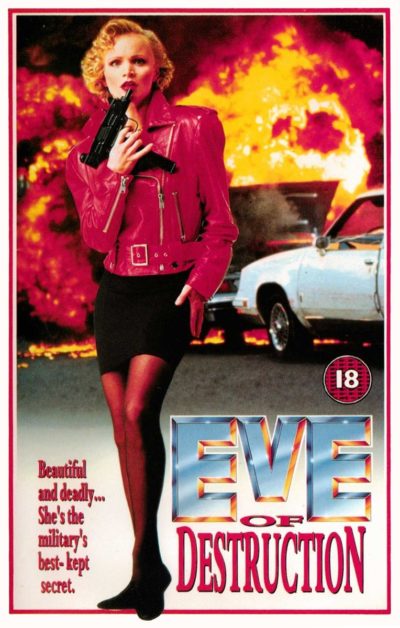 While undeniably a product of its time – which would be 1991 – this has stood the test of time very well, and remains a solid piece of action SF. Eve Simmons (Soutendijk) is a researcher working for the US government on creating life-like robots for surveillance missions, and her creation, Eve VIII, not only looks like her, but has her memories and psychology too. When on a test run in San Francisco, Eve VIII is caught up in a bank robbery and a bullet sends her off the grid, and on her own mission. Jim McQuade (Hines), something like a proto-Jack Bauer, is brought in to track down the lost little robot, who has all of her creator's complexes, but none of the social restraints, leading to a fondness for automatic weapons, which she uses with abandon as she works out her psychiatric issues [cheaper than counselling, and a good deal more fun]. Oh, and Eve VIII also has a nasty little surprise package tucked away inside. It's up to McQuade and Simmons to stop the killing machine before things really get out of hand.
Former pop-video director Gibbins [he did Wham's Club Tropicana] makes a smooth transition to the action genre, and keeps things moving at a fine pace. It's Soutendijk's first European role – or rather roles, since she plays both human and cyborg, and she does a good job of splitting and defining them. Eve VIII has the kind of unfettered approach that's fun to watch, wielding a Mac-10 with delightful abandon, and the image of Soutendijk in her red leather jacket, blazing away, is justifiably an icon of the genre. I particularly recall seeing the cardboard standee in the video-store which advertised the film. Sure, there are a number of convenient plot-holes [it's never quite explained how Eve VIII tracks down her father through an army associate] and occasionally the budget and effects don't prove quite up to the ideas the script wants to express. The subplot involving Eve's son learning about genitals should probably have been removed entirely too: in these more-sensitive days, it comes across as creepy rather than anything.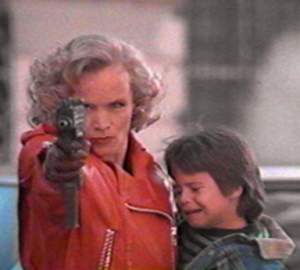 But as a straightforward B-movie, it works nicely, with Hines having a nicely sardonic wit: "A spinach lasagne, in a light tomato and basil sauce," is the reply, when Simmons asks dubiously what is McQuade's "specialty" as a government agent. I'm still trying to work out if the film is feminist or chauvinist: you could read it either way, with the 'liberated' (if robotic) woman a free spirit, though the ending firmly puts Even back in her place, to say the least. She also emasculates one man, somewhat familiar territory for Soutendijk, who previously wielded a scissors to leg-crossing effect in The Fourth Man. Gibbins, meanwhile, died in the 1993 Hollywood fires, while trying to rescue a cat. Guess there's never an unstoppable robot around when you really need one.
Dir: Duncan Gibbins
Star: Renee Soutendijk, Gregory Hines, Michael Greene, Kurt Fuller