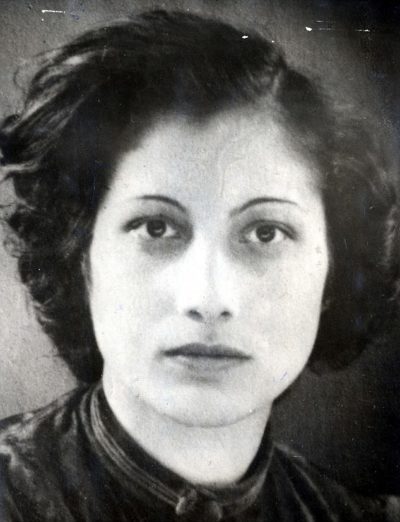 Born three years before the Russian Revolution in St. Petersburg, Khan was perhaps the most unlikely of secret agents. Her father was an Indian of noble birth, descended on his maternal side from Tipu Sultan, and a noted Sufi mystic; her mother, a cousin of Mary Baker Eddy's from New Mexico. The family also lived in London, before settling in Paris until the invasion of France in 1940, when Khan returned to the United Kingdom. Keen to help free her country from the Nazis, she joined the Women's Auxilliary Air Force as a wireless operator. However, her additional talents as a native French speaker, brought Khan to the attentions of the Special Operations Executive (SOE), tasked with organizing resistance groups in France.
After being trained in undercover work, she was sent to France in June 1943, and began work in Paris, transmitting agent reports back to London. It was a ferociously dangerous job, with the average lifespan of radio operators only a few weeks. A sweep by occupying forces gathered up almost all her colleagues, leaving Khan the only operator still at large. She was the most wanted British secret agent in Paris, with her description widely circulated; wireless detection teams meant she was constantly on the move and could only transmit for 20 minutes at a time. According to a post-war commendation, "She refused to abandon what had become the most important and dangerous post in France and did excellent work."
It eventually took betrayal from within the organization before she was captured after three and a half months in October 1943. Even then, she managed to escape custody, only to be recaptured once again. Another unsuccessful attempt followed. The Germans were taking no further chances, and shipped her from France to Germany, where she was imprisoned in solitary confinement, with her hands and feet shackled. After more than nine months she was transferred to Dachau concentration camp, along with three other female British SOE agents. On September 13, 1944, all four were executed. Khan was 30 years old. Her final utterance was: "Liberte". She was posthumously awarded the George Cross, the second-highest British decoration – one of only four women to receive it – and also given the Croix de Guerre by the French government.
Enemy of the Reich: The Noor Inayat Khan Story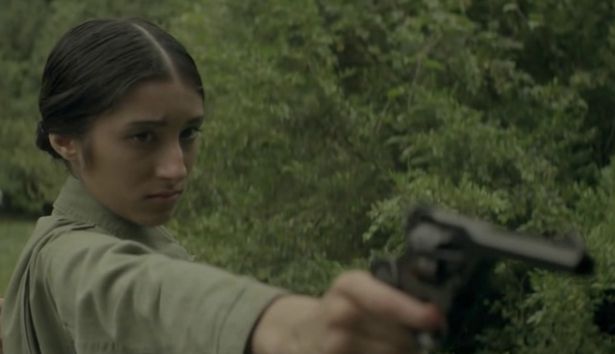 Screened on PBS in 2014, this uses a combination of interviews, with scholars and Khan's descendants, as well as dramatic re-creations, to tell her life-story, touching on most of the aspects mentioned above. It also delves into her psychology, suggesting that the tenets of strong Sufi philosophy instilled during her upbringing were both a source of Khan's strength and, potentially, her biggest weakness. She was, according to the film, almost incapable of telling a lie, which could be a literally lethal flaw for a secret agent in wartime. In his memoirs, cryptographer Leo Marks (played here by Isenberg) gives some blackly amusing anecdotes to illustrate this. But the film concentrates on how he used the trait to strengthen her encryption skills, another area of concern from her training.
Unfortunately, rather unimpressive are the interviews with her nephew, Pir Zia Inayat-Khan who delivers slabs of philosophical mumbo-jumbo that makes little sense and is even less interesting. I'd rather have seen more of the re-enactments of Khan's time in occupied Paris, which manage to do a fairly good job of capturing the sense of danger and perpetual tension for an agent in those times. Srinivasan, as Khan, doesn't appear to have anything of an acting resume in the IMDb, yet is successful in depicting Khan's idealism, which ultimately led to her death. Curiously though, the film appears almost to soft-pedal the treatment received at the hands of the Nazis after her capture. Still, there's no denying the impact of the final sequence, which cuts from the execution, shot almost in stark black-and-white, to Khan reading from the book of stories she had written, to two young children.
Though running little more than 50 minutes, it does highlight the cinematic potential in the story: the modern resonance of a Muslim woman taking up arms and participating in a Western war is particularly undeniable. There was word, back in 2012 [around the time a memorial statue of Khan was unveiled in London], that such a project was in the pipeline. Producers Tabrez Noorani and Zafar Hai announced they had bought the rights to Shrabani Basu's book, Spy Princess: The Life of Noor Inayat Khan. You'd think a Hollywood-Bollywood partnership would be all over the story. Yet since then? Little or nothing. Maybe some day, Khan will finally receive the global recognition she likely deserves.
Dir: Robert H. Gardner
Star: Helen Mirren (narrator), Grace Srinivasan, Joe Isenberg, Mike Sullivan
Below, you should see another documentary on the same topic, Princess Spy. This formed part of BBC's Timewatch series in 2006, and if perhaps a little dry, is also a good overview of a heroine who isn't as well known as she should be.