"They're super, thanks for asking…"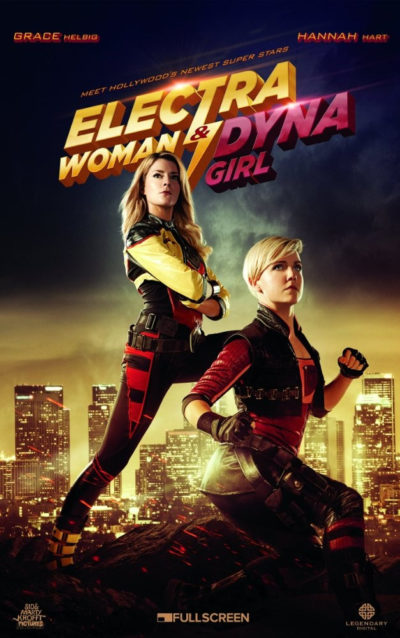 Initially a web series, the eight episodes are combined into a feature-length production here, and it's done well enough you can't see the join. It's inspired by a Sid + Marty Krofft creation from the mid-seventies, which parodied the Batman and Robin dynamic. Four decades later, when it seems every other movie is a superhero of one form or another, the updated concept works deliciously well, helped by a winning lead performance from Hart as Dyna Girl. She and her partner Electra Woman (Helbig) are low-tier superheroines – without any particular powers, in fact – who operate out of Akron, Ohio until video of them disarming (literally) a convenience store robber goes viral.
That gets them the attention of CMM, the top talent agency for caped crusaders, which necessitates a move from Akron to Los Angeles. With the fame and fortune comes its share of problems, as the more photogenic Electra Woman is seen as the lead, with Dyna Girl increasingly reduced to "sidekick" status. Worse is to follow, as the first supervillain in a long time shows up in Los Angeles, and the 'Empress of Evil' rapidly takes out Major Vaunt, the city's top hero. Can EW + DG patch up their creative differences and save the City of Angels? [Or, at least, the City of Vancouver, attempting to stand-in for the City of Angels…]
I was genuinely and pleasantly surprised by this. I had no clue at all what to expect, having never even heard of the show before, and not even seen a trailer. But I greatly appreciated the dry wit, often bordering on sarcasm, not often seen to this extent in American films. Helbig and Hart are, apparently, YouTube stars, which may help explain the abundant references to social media and pop culture in the script. These may not date well, i.e. jokes about Uber discount coupons or filming with your phone vertical, and if you don't know what a "Reddit AMA" is, much of the satire there may go over your head. For now, however, it hit the mark for me, and the entirely underwhelming nature of the heroines along with their (lack of) abilities and down-to-earth personalities made them far more relatable than the likes of Jessica Jones.
As you should probably expect, the action aspects are somewhat restrained. Yet these are more successful than you'd imagine and are meshed into the rest of the film nicely – the villains who are beaten up by our two leading ladies sell their punishment magnificently, which certainly helps! It's also refreshing that there is basically not even the hint of any romantic elements here at all; EW & DG sleep in twin bunk-beds, above each other. This charming naiveté extends to other aspects, such as Dyna Girl's adorably dorky hair-cut, which looks like the kind of thing you do to yourself in the mirror – if you had the attention span of Dory. The self-awareness here is almost off the charts, and this shows that is not necessarily a bad thing.
Dir: Chris Marrs Piliero
Star: Grace Helbig, Hannah Hart, Matreya Fedor