"In space, no-one can hear you yawn."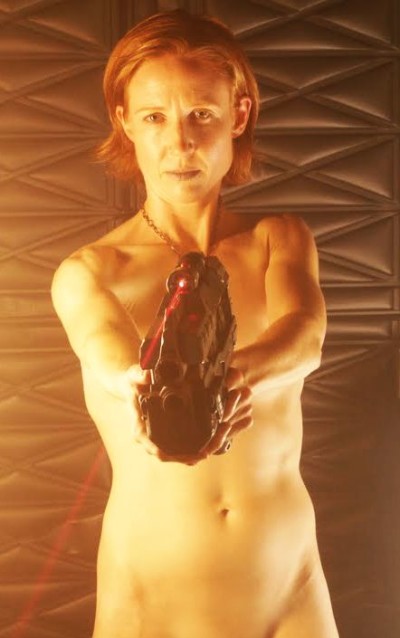 If one and a half stars is likely kind, I know how much work goes into micro-budget film-making, and this is clearly a labour of love. However, if ever there were evidence more than that is needed… this would be it. At some point in the future, an android, "Helen" (Kurtz), reboots to find herself on a space-station with no memory of why she is there. It turns out, she was part of a mission sent to the space-station, involving a massive weapon located there, capable of creating a black hole and destroying the Earth below. Some want to destroy the weapon; others want to set it off, in order to fulfill religious prophecy. Helen initially assists the former side, but as her memories return, it turns out that may not have been her originally programmed mission. As well as the fanatics, there are also nanobot-infected zombies [I think – my notes grew a bit vague on the details of some elements, as my interest waned!] who must be avoided or fought, for Helen to make her way through the station to the Doomsday device's location.
Which would be okay, if the film-makers could deliver anything approaching the productions values necessary for this kind of epic science fiction. Instead, we get what feels like the same three sets, shot repeatedly from slightly different angles, in a touching and severely-flawed belief that no-one will notice; "zombie" make-up which looks like an Alice Cooper look-alike contest got left out in the rain; and perhaps one of the worst "acting" performances of the decade. Though, I have to say, this does not belong to Kurtz, who acquits herself adequately as a robot. She spends the first 20 minutes of the movie naked, for no reason ever satisfactorily explained, and I wondered is she was going to go all Lifeforce here. Kurtz is – how can I put this? – more reminiscent of Tilda Swinton than Mathilda Maym and it's about the least erotic nudity you can imagine, but I kinda respect her and the director for that. Anyway: no, the acting Razzie for this one gives to whoever is playing her boss, who delivers his lines with considerably less enthusiasm than the zombies. It's certainly memorable; unfortunately, for all the wrong reasons.
Throw in poorly conceived and badly-executed CGI blood (something I generally dislike and rarely used except out of laziness),  exposition that manages to be uninteresting during the minority of the time when it is intelligible, and digital effects that run the gamut from acceptable – the space-station exteriors aren't bad – to 8-bit video game, and you have something which even the best will in the world can't save. Sometimes, reining in enthusiasm is good; sometimes, realizing you aren't yet ready for public consumption is better.
Dir: Andrew Bellware
Star: Robin Kurtz, Lisa Marie Fabrega, Stacey Raymond
a.k.a. Total Retribution