Typical. Wait ages for one roller-derby league, then two start up almost after each other. Back in June, we wrote about AZ Roller Derby, but a schism arose almost immediately, disenchanted skaters breaking off into the Renegade Rollergirls. A third group also peeled off in another direction. The reasons are not relevant: here, we don't take sides, especially if it increases our opportunities for femayhem. Regardless, almost-certainly-not-coincidence, two of these three had their first interstate bouts within a week of each other. [While some Renegade Rollergirls took part in the second of these, it wasn't run by them – their debut is currently scheduled for January] Here's a comparison shoppers' guide to events…
November 6th, Surfside Skateland, Tempe. The original federation got their skates on first, sending out an all-star team selected from the home players, called the Tent City Terrors – the name is a tongue-in-cheek tribute to local sheriff Joe Arpaio, who is nationally known…either for being tough on criminals or an incompetent publicity-whore who relies on gimmicks, depending on your viewpoint. Their opponents were the Texas Rollergirls, a group who split off last year from BGGW/TXRD; they came to take on the Phoenix ladies on Saturday, then were going down to Tucson for a match again a southern Arizona all-star team on Sunday.
The venue for the first bout was Surfside Skateland, a place with both benefits and limitations: you can get very close to the action, but it's not designed for spectator sports, and the only seating was three rows of folding chairs at each end of the rink. If you didn't get there early, audience members either have to stand or sit on the floor down in front. And if you opt for the latter, you might end up with a roller-derby girl flying into your lap – I leave it to the reader to decide whether this is good! On the definite-plus side, concessions are cheap: a bottle of water is only a buck, where they were also offering $2 beers. However, I didn't bother, since with it being an all-ages show and a small venue, you can't take your beer back to your seat, but have to drink it in the designated area. Of the two MC's providing colour commentary and announcements, one seemed to think that the louder he bellowed into the mic, the better it was: he was wrong. We were far from the only people cramming fingers into our ears and wishing for a high-velocity rifle.
This match consisted of three 20-minute periods, with bands providing entertainment during the intermision. I'm aware of AZRD's origins on azpunk.com, and roller derby's close ties to the music scene (which appear almost compulsory nationwide). But it still feels like a clumsy mix, and few people seemed the slightest bit concerned when a power outage brought the second set to a premature close. There was also a half-time raffle for sponsors' goody-bags – the same guy won about three, making for a good investment!
As for the game itself…we got our butts kicked. The visiting girls were simply faster and tougher, as well as more experienced (roller derby in Texas dates back to TXRD's creation in 2001), and this disparity was painfully clear from about five minutes in. The first brawl saw AZ captain Ivanna Spankin left looking for the number of the truck that just hit her, and by the end of twenty minutes, Arizona was behind 42-18. This huge lead rendered the rest of the contest almost irrelevant: the two other periods were closer, but by the end, Texas had racked up a three-figure point tally too large for the scoreboard to handle, winning 102-60.
This was a little embarrassing, especially since cameras from the Game Show Network were there to capture the event. However, it's about par for Phoenix: last season, our baseball, hockey, NFL and basketball teams all ended up near-last in their leagues, so we're getting pretty used to defeat here. :-( [The Texas team then went down to Tucson, and did a number on them too, 110-70] We were left hoping for a better showing two weeks down the line, when our local heroines were flying out to Austin, to take on the Lone Star ladies on their home turf, but still had an enjoyable evening.
November 12th, Glendale Arena. The following Friday, the Phoenix Landsharks took on the LA Thunderbirds at Glendale Arena. Originally built as a home for the Phoenix Coyotes ice-hockey team, this cost $180m and seats up to 18,000. However, with the current NHL lockout, there are suddenly a lot of blank dates to fill. Hence the unexpected presence of roller derby, with advance predictions of up to 5,000 in attendance – which I have to say, seemed more than a little optimistic.
We got tickets through a contact at the Coyotes (thanks, Marissa!) for $15; if we'd gone through Ticketbastard, and paid the "building facility charge", "convenience charges" and "order processing fee", a single ticket would have been $26.40. We battled our way across town, through both rush-hour traffic and torrential rain, and saw the arena rising up in the middle of nowhere – while it'll eventually be the centre of a whole complex, for the moment, it's a long drive if you want a restaurant. As is, you pay stadium prices ($3.75 for a bottle of water), but can take beer to your seat.
It's the first time we've been there, since we're not hockey fans – actually, we used to go to Phoenix Mustangs' games, we're just not NHL ticket price fans. But I digress. It's an impressive venue, with good sightlines and plenty of space: we settled in, a few rows from the front with no trouble [the crowd was nearer 500 than 5,000] The first difference from AZRD was obvious: a banked track. As an engineering feat, it certainly beat two strands of ropelights duct-taped to the floor, though I have to say, it looked a little dangerous. The outside barrier was a rope running around pillars (see photo), and that was all there was to prevent a skater flying off, and onto the unyielding concrete floor.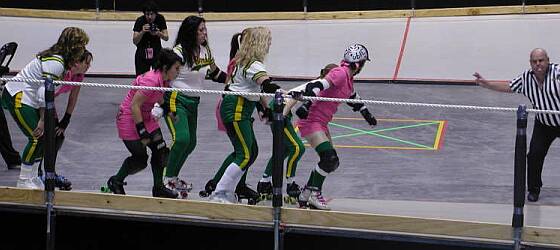 As we waited, promo videos played on the scoreboard, an enormous device hung from the ceiling like a cannon on the Death Star. Bonus points for production values on these films, which explained the rules and introduced the players, as well as promos for their sponsors: Dickies, the Platinum Girlz promotional company, etc. We learned they were calling the venue 'The Shark Tank', which is a catchy name, and that the rules were basically the same; the only major difference was there'd be four periods, each of ten 90-second jams, rather than three twenty-minute periods. On the downside, there was no program, and merchandise was limited to one design of T-shirt. One wonders perhaps how quickly this event had been scheduled.
Generally, though: so far, so good. The two teams came out, were introduced to the crowd (Phoenix were missing their captain, Anita Cocktail, with a torn rotator cuff), and battle commenced. Which is where things got weird. For from about two jams in, it was clear that something odd had happened. Any semblance of competitive edge vanished from the LA team quicker than air leaving a burst balloon. Arizona scored four points; then five; then four more. They won the first period 25-3, and the second by an almost equally wide margin; we also saw one thunderous body check which, save for the quick actions of one cameraman, would have propelled a Thunderbird head-first out of the track onto floor. The body language and apathy of the visitors clearly showed they were extremely pissed-off about something. But what?
During the halftime interval, we were entertained by cheerleaders and a display of swordfighting. The latter was kinda lame, but the cheerleading was acrobatic, though for some reason, as they hurled each other fifteen feet in the air above the bare concrete, all I could think of was the sound of necks snapping like twigs. All told, at least it wasn't mediocre bands, so we'll take it. The home team came out, and we waited for the LA Thunderbirds to return. And we waited. And waited. Finally, after much to-ing and fro-ing, their captain came out and launched into a tirade complaining about the track being waxed, and unacceptable. This didn't seem to make much sense – the home team had no obvious problems skating – and I wondered if this was all some carefully worked angle to try and generate some heat. Except, if it was, it made little sense, and wasn't very well executed.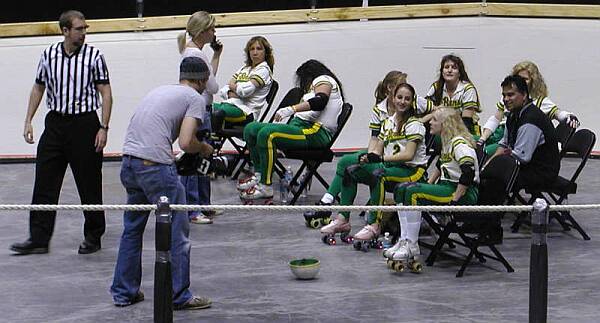 Finally, after about a 40 minute delay, mutterings from LA about injuries, and amid threats of the whole team being suspended from play for a year, enough Thunderbirds came back to skate a few lacklustre jams, to give the bout some semblance of closure (the final score was round about 66-6). I've not had any official explanation, but I subsequently heard that a lot of the LA team were veterans of the old-school of roller derby – we did note they lacked the florid skating names of the Phoenix team – where the action was more choreographed, and were expecting something similar here. When they didn't get it, they were peeved; if you imagine two combatants, one anticipating a pillow fight, the other a full-contact karate bout, you can get an idea of the situation.
It was rather disappointing – and hence the advantage is clearly with the AZRD, as far as the Phoenix roller derby scene goes. Though I don't blame the Landsharks themselves for the chaotic events; they handled themselves with dignity and can clearly skate. If the above story is indeed the case, the fault is partly with the Thunderbirds (when AZRD were getting their asses kicked, they tried harder), and partly whoever it was that set the bout up, without ensuring the two sides were playing the same game. I do think, however, that starting at an 18,000 seat arena was a mistake. Selling out a 300-seat venue would have been more effective at generating buzz, and Saturday night's events may actually have set back roller derby in Phoenix more than they helped.
The above piece probably generated more feedback and interest than any article in gwg.org history. :-) We subsequently received an email from Celeste Cooper (a.k.a. Alotta Trouble, captain of the Landsharks), giving their side of the story, while the T-Birds issued a press release. Here are both. Most bizarrely of all, at the time of writing this footnote – November 22nd – the T-Birds website says they have accepted a Landsharks offer of a rematch in January. This again raises the possibility the whole thing was artificially fabricated to generate 'heat' and foment a rivalry. I'm still not convinced this is the case, however – if so, it was one of the most badly-bungled angles I've seen in all my years of watching 'sports entertainment'. 28th November: Alotta Trouble denies any such rematch is scheduled, though the T-Birds website still says otherwise. At this point, I throw up my hands in bemusement, and move on…
Oh, and two weeks later, Texas completed their sweep over Arizona in the Austin matches, beating Tucson 79-38, and Phoenix 72-51.