"Somewhere in here, there's a decent film trying to get out."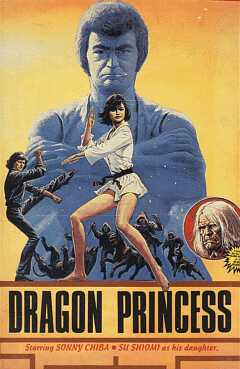 If ever a movie was condemned by the medium, this is it – it's badly dubbed, cropped to oblivion, and the print looks as if it has recently been used as kitty litter. Just what DVD was invented for… Plotwise, there's certainly nothing new. Shiomi plays the daughter of a kung-fu master (Chiba) who was crippled by his rival (Ishabashi) in a spat over a job. He retires to New York to plot revenge, using his daughter as his weapon. After the traditional, getting-beaten-up-repeatedly training, she returns to Japan, wastes no time in making a nuisance of herself and everything heads relentlessly towards the big showdown.
The low rating is largely because of the presentation; I really wouldn't mind seeing a good quality, letterboxed, and ideally subtitled, print because Shiomi has definite talent – as can be seen in her nunchaku-twirling. However, few genres need widescreen as much as the martial arts. It's hard to appreciate a good bout of fisticuffs when one participant is off-screen, and when you take that away, there's precious little left here to entertain, with neither story nor characters possessing much originality. Shiomi's role is nicely twisted, however, as she has been created entirely as a tool for her father's vengeance. With that accomplished (and I don't think I'm giving away much there!), what would become of her? In some ways, Dragon Princess 2 might be a more interesting film. Pity it never got made.
Dir: Hiroshi Kohira
Star: Sue Shiomi, Masashi Ishabashi, Yasuaki Kurata, Sonny Chiba