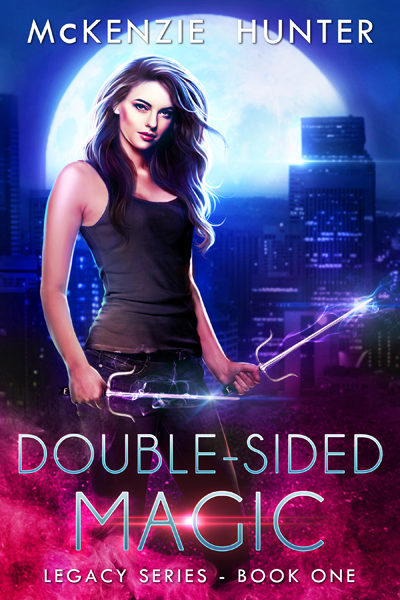 This is set in a world where various kinds of magic exist, alongside humans. The former include shapeshifters, vampires, faes (fairies), mages and the despised "Legacies". The last-named cover the heroine, Levy Michaels, and that's a bit of a problem. The reason for the hate, is because some of her kind were responsible, in previous generations, for a very nasty bit of spellcasting called "The Cleanse"; it was basically intended to cause occult genocide, and only narrowly avoided. Since then, Legacies have been harried and hunted by the other kinds. Levy's late parents taught her to hide her abilities and pass as human, and she does so now, albeit occasionally having to handle those who track her down.
This mostly quiet, largely undercover existence is rudely ended when she suffers a blackout, only to regain consciousness standing over several very dead bodies, with absolutely no recollection of how she got there. Almost simultaneously, a relic called the NecroSpear, with which she was involved in a professional role, goes missing. This all brings her to the attention of Gareth, who heads the Supernatural Guild that are responsible for policing crimes involving magic. Again, a bit of a problem, since attention is the last thing an incognito and persona non grata creature like Levy needs. But it eventually becomes clear that someone equally powerful is out there, and she may be the only thing standing between humanity and an even bigger calamity than The Cleanse.
This is the first book in Hunter's second series; her first, the Sky Brooks series, is about a werewolf who also has the unique (for her type) ability to do magic. This seems more like a slightly different variation on the same recipe, rather than a different meal, but a sai wielding heroine is always going to get my attention. Having her an uber-powered magic-user does initially seem a bit of a "Mary Sue", but the constraints of Levy's situation mean she has to survive as far as possible without using those skills. That said, she's not exactly as reticent with them as I would have expected, and it's fortunate everyone else appears to have a blind-spot with regard to her. She does wield those sais effectively; just not enough for my tastes.
It's not exactly a finished story either, ending in a neo-cliffhanger way that appears largely designed to get the reader to part with their shekels for the upcoming book two. My other main qualm was Gareth: I rolled my eyes at the initial description of him as "sexy and dangerous" [which seems an archetype for Hunter, based on synopses from her other works, as well as some of the characters here] – and yeah, the sexual tension between him and Levy ran the entire gamut, from tiresome to cringeworthy. That's a shame as Levy actually worked nicely as a standalone character, with a self-deprecating sense of wit that is quite appealing. But it appears almost obligatory to shoehorn in a romantic angle to this kind of book, whether it is necessary or not.
Hunter has put some obvious thought into the universe and its rules, making it certainly one with scope for development, though some additional exposition would have helped with certain aspects. I'm also not certain this is the best place to have started. Hearing about The Cleanse in a "previously, on…" kinda way, seems like a waste of an epic opportunity. There's an origin story for Levy, which could well have been more interesting than the one actually told. Still, I wouldn't be entirely averse to reading more of her adventures, though it would likely be a case of waiting for a 99-cent sale on Amazon, rather than paying full-price.
Author: McKenzie Hunter
Publisher: Through Amazon, only as an e-book.