"Zoë Bell, you're our heroine. Never change. "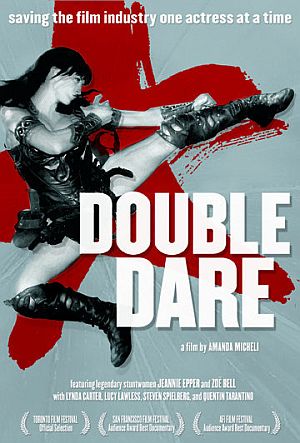 The day after watching this documentary, I was clearing out the shed in preparation for our house move. I twisted my back, and thought about giving up, but soldiered on until the job was done – because that's what Zoë Bell would do. It's now my life philosophy: WWZD? She's the main focus here, from working as Lucy Lawless's double on Xena in New Zealand, through an unsuccessful attempt to break in to Hollywood, and on to a second try, where she's hired to stand-in for Uma Thurman in Kill Bill. Paralleling this, it looks at Jeannie Epper, a veteran stuntwoman who shadowed Lynda Carter in Wonder Woman. Now nearing her 60th birthday, Epper is still active and seeking work, fighting against the problems of being a female in an extremely male-dominated industry.
The thing that comes over is how delightfully un-Hollywood Bell is, innocent almost to the point of naivety – she's blissfully unaware of the need, for example, to have head shots, and drops F-bombs with a marvellously casual air. The cameras are rolling when she gets the call telling her she's got the Kill Bill job, and her obvious, genuine delight at the news, brought a huge grin to our faces, and is completely endearing. It's to be hoped that Hollywood doesn't change her in the slightest, and Zoë remains the same, down-to-earth, well-grounded person shown here, who is now even more solidly entrenched among our favourite contemporary action heroines.
I have some concerns there, based on Epper; her contemplation of plastic surgery and liposuction at her age is more sad than anything else, as is watching Jeannie working the phones, basically begging for work, even though she's a legend in the business. There's a good heart beating in there (Epper donated a kidney to a friend, for instance), but she has clearly been ground down by her decades in the film industry, and become a lot more cynical and battle-weary as a result. That's no wonder, when you witness her struggles trying to get equal treatment for women at the annual awards ceremony. It's a somewhat grim reality-check, warning of the potential perils ahead for Bell in her career.
But aside from the contrast in the two heroines, this is a fascinating study in a side of the business that doesn't get anything like the recognition it deserves. As one comment I read elsewhere said, "If you liked Uma Thurman in Kill Bill, Zoë Bell is the reason why," and that sums up the shadows in which stuntwomen work. This film shines a light into that darkness, and both Epper and Bell deserve enormous respect and admiration for putting their bodies on the line, in the name of our entertainment. And while I'm not really a big Tarantino fan, if he turns out to be responsible for bringing Bell to a wider audience, then it's perhaps the biggest gift his career will have given us.
Dir: Amanda Micheli
Star: Jeannie Epper, Zoë Bell