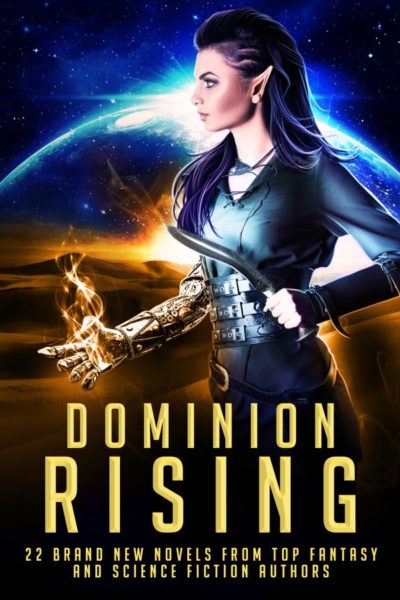 I am a sucker for bulk-buying. Regular readers will know this, since one of the first things reviewed here was the Women Who Kick Butt DVD box-set, which was a mixed bag, to say the least. But it did introduce me to Sister Street Fighter, so I consider the effort well-spent. So when an offer popped up on my Kindle app, giving me the chance to purchase no less than twenty-three novels for the low, low pre-purchase price of 99 cents, it didn't take me long to click on 'Buy Now'.
Kinda regretting that decision. Not due to quality (at least, not so far), and not due to a lack of action heroine content. It's just that there is an insane amount of content in the Dominion Rising collection. Amazon lists it at 5,563 pages, which at my low rate of reading (it's a good day if I get 25 minutes in) is probably close to a year before it'd be finished. Rather than waiting for that, I've opted to review the individual items as I finish them – as long as they meet the usual site criteria, and I can find some kind of artwork with which to illustrate the piece. They'll appear both as stand-alone reviews, and below.
One thing I am noticing already – and it's rather annoying – is the tendency for the stories here to be incomplete, frequently ending on cliff-hangers, rather than offering a fully-formed and finished tale. It may seem churlish to complain, when I paid less than a nickel per book. But the discount box-sets of DVDs that I've bought, don't cut off the movies after 60 minutes, and then require you to buy the last reel at a higher price. Even if I'm somewhat enjoying a story, an abrupt ending followed by an exhortation to buy volume two, is not likely to have the desired impact. Finish off telling a good story, and the odds of me buying more from you are significantly better.
Below, find the full list of contents, which will (eventually!) be read in order – titles struck through are ones that didn't qualify for the site, and will be skipped.
Reign of Steel and Bone by Erin St Pierre and Gwynn White
Mind Raider by S.M. Blooding & P.K. Tyler
Sorcery & Science by Ella Summers
Spectral Shift by Daniel Arthur Smith
Petra: Immortal Codex, Book 1 by Cheri Lasota
Infinite Waste by Dean F. Wilson
Girard The Guardian by Ann Christy
Flicker by Rebecca Rode
Star Compass by Anthea Sharp
Vengeance: Warships of the Spire by S. M. Schmitz & Lisa Blackwood
Touching Infinity by Erin Hayes
Death Plague by K. J. Colt
Curiouser and Curiouser by Melanie Karsak
Ultras by Timothy C. Ward
Maze: The Waking of Grey Grimm by Tony Bertauski
Blood for Stone by Logan T. Snyder
The Incurables by Felix R. Savage
Ferromancer by Becca Andre
The Other by Marilyn Peake
New York by J.C. Andrijeski
Rift Cursed by Margo Bond Collins
The Zoo at the End of the World by Samuel Peralta
Iron Tamer by Tom Shutt (incomplete)
Authors: Various
Publisher: Pronoun, though the collection appears to be no longer available through Amazon as an e-book. Some entries may also be available individually, as noted in their entries below.
Reign of Bone and Steel by Erin St Pierre and Gwynn White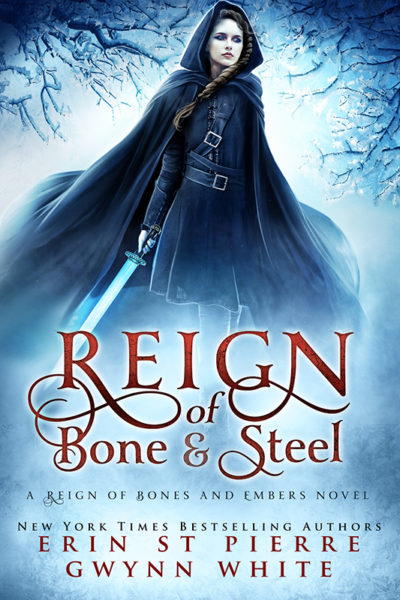 This certainly doesn't waste any time, starting in the middle of a brutal pitched battle between the kingdom of Yatres, and their mortal enemies, the Nyhans. Among the Fae – basically, elves – in the former army is the warrior Caeda, and it's her side that emerges victorious. But the price paid by the fallen on both sides is an ugly one. Their souls are absorbed through a magical sword, wielded by the Fae known as the Soul-Reaper, and fed to an artifact called the Bone. The trinity of Bone, sword and Reaper have helped sustain Yatres's power down the centuries.
But while the nation is celebrating its victory, the Soul-Reaper is killed and the Bone stolen. Worst of all, for Caeda, the sword – which is intelligent, telepathic and very chatty – chooses her as the new Soul-Reaper. Caeda and her new pointy pal have to figure out who was responsible, before the power in the Bone can be wielded by the state's enemies. Yet the more she interacts with the sword, the more she realizes that the soul energy powering Yatres is morally indefensible. Caeda comes to realize, the only legitimate thing she can do, is ensure the Bone is not returned to the service of her king either.
It's an unusual mix of fantasy and whodunnit, with no small helping of romance. Caeda falls for Dominik, the scion of a the King's closest advisor (who may, or may not, be involved in the Bone theft); unfortunate, since he is already engaged to be married to the Princess Taliesin. To be honest – and, let's face it, as usual – this is likely the weakest element in my eyes. The heroine is a supposedly kick-ass warrioress, and certainly proves capable on that front, when necessary: in a world ripe with magic, it's a nice touch that she doesn't have any such skills. Given her apparent self-reliance, the speed with which Caeda melts into making moist, googly eyes at Dominik is almost embarrassing. The book also ends painfully abruptly, as if the authors had reached a predetermined word-count, though this is more likely a misguided effort to flog volume two.
It's a shame, as this wasn't bad until the cliffhanger which serves no purpose other than commercial. Pierre and White do a nice job of world-building, and the borderline insanity of the intelligent sword, a result of the unfortunate circumstances surrounding its creation, was particularly effective. Imagine having Gollum inside your head 24/7, and you'll understand why the usual fate of Soul-Reapers involves being driven to insanity. Indeed, there's a little from Lord of the Rings in the overall concept, with the hero(ine) seeking to destroy a powerful device which could be used for evil. However, the undercover nature of Caeda's mission, which she can only share with a trusted few, is a good twist, and there's enough fresh here to make for an enjoyable read.
Author: Erin St Pierre and Gwynn White
Publisher: CreateSpace, available through Amazon as a printed book. It also forms part of the Dominion Rising collection for Kindle.
Mind Raider by S.M. Blooding & P.K. Tyler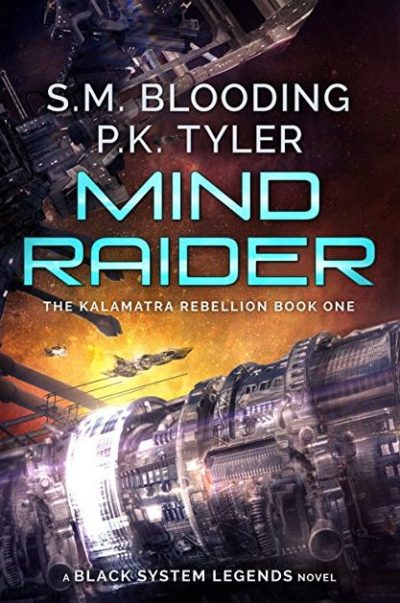 I'm not sure if the problems here are a result of there being two authors credited on this story. It could certainly explain them. For rather than providing a single coherent vision, this feels like both its universe and characters are being pulled in too many different directions. It's overstuffed with ideas and, instead of them being developed fully, scurries from one to the next, as if the writers were competing to have the final word. This comes to an end in a rather ludicrous finale. There, the entire plot takes a right turn, with the biological weapon which has formed much of the early focus all but discarded.
The heroine is Keva Duste, an "engineered human," who was originally pod-grown for use as a super soldier. However, she proved able to over-ride her programming so was discarded after refusing an order. And by "discarded", I mean tossed into space. From there, she was fortuitously rescued, and began a new life as an agent working for the Syndicate. This is one of a number of murky groups, including the Elite and the Families, who are waging a proxy war for power around the network of planets and space stations which are the setting here. None of them seem to have the population's interests at heart.
She's sent undercover to an Elite planet, to find out information about the bio-weapon mentioned, which will shortly be tested on an unsuspecting batch of subjects. However, troubled by an increasing moral compass, she goes off-mission and also rescues Dothylian, the new wife of the not very nice Elite (to put it mildly) on whom Keva is spying. This causes problems all its own, partly because of Dot not being fit for the harsh world of the "Black", where Keva operates. And partly due to the increasingly self-aware AI she brings with her, which has an agenda of its own.
I found it all kinda annoying. Ideas and concepts like the "slip drive" are hurled at the reader, without adequate explanation, and the focus bounces around, to diminishing effect. There is some a bit of decent tension built up when Keva is on the Elite planet, because her undercover identity is that of a dead woman. Anyone who knows that will be understandably surprised to see the corpse walking around, so it's a very risky situation. For a genetically-engineered super-soldier though, especially one with a permanent connection to a high-powered AI in her head, she doesn't seem to make much use of her talents. There's rather more of Keva moping around her spaceship, and unresolved sexual tension with Captain Hale.
From reading interviews with the authors, it appears one wrote and the other edited, so my theory about competing pages doesn't seem to be valid (much though it'd explain the deficiencies). I'll split the blame here, with perhaps a little more going to the editor, Tyler. She should perhaps have spotted and corrected the structural issues that rendered this more chore than pleasure at about the half-way point, and turned into a real slog in the final stretch.
Authors: S.M. Blooding & P.K. Tyler
Publisher: Macmillan, available through Amazon as an e-book only. It also forms part of the Dominion Rising collection for Kindle.
Sorcery and Science, by Ella Summers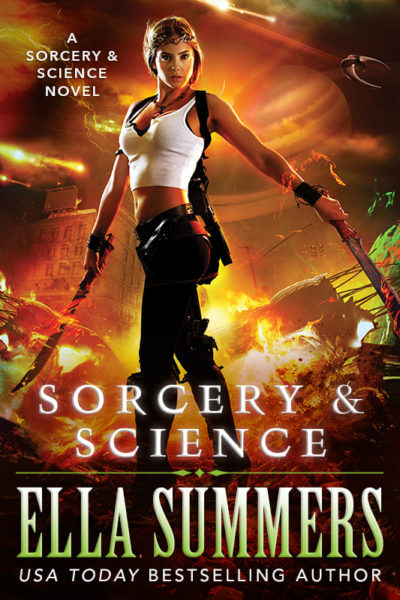 The blurb for this one reads, "Terra Cross is just your typical paranormal princess. She plays poker with goblins and leprechauns. She savors her morning muffin from the Pacific Sunrise Bakery in suburban California. She solves galactic crime cases. And on a particularly wild day, she can even see into the future." It is somewhat inaccurate, at least as far as this novel goes. I don't recall any poker at all, muffins appear once, and as for the crime-solving… Well, sorta but not really. There is, however, likely good reason, since the novel is a prequel to Summers's "Sorcery and Science" series, in which I presume Terra does more of the above.
This is both a blessing and a curse. It allows this book to stand on its own: you reach the end, and there's a fairly well-defined line drawn beneath the fates of most characters. On the other hand, it does require a clunky jump in the epilogue to tie into the body of the series. Not much more than, "we moved to the other end of the galaxy and started a private-eye business." Wait, what? It almost works better if you skip that, and treat it as the first volume in its own, standalone series. The paranormal princess aspect makes more sense this way, in a universe where advanced technology and magic co-exist, and Earth is being carefully blocked from knowledge of both. Vampires, witches, elves, etc. all have their own realms, making varying use of the "sorcery and science" from the title.
Cross is the daughter of the mage's king, but likes to sneak off on adventures with her best friend and mage enforcer, Jason. However, they bite off more than they can chew when chasing after a renegade scientist-wizard, Vib. He is creating an advanced breed of super-mages, with multiple, shared talents instead of the standard limit of one type of magic per person. Needless to say, this research – despite being way beyond the pale – is of great interest to the competing races. Terra and Jason find themselves not just fending off Vib's creations; they also becomes pawns in the political battle for dominance between the various forces that seek to control the galaxy.
I generally enjoyed this, once I got past Summers's fondness for prose which tends toward the over-descriptive, it seems especially when it comes to colours, for some reason. The world she crafts is quite an interesting one, and the techno-pagan blend of SF and fantasy is intriguing. While Jason is the more action-minded of the duo, Terra becomes more active later on, especially after taking one of Vib's experimental concoctions, out of desperation. It allows her to use some of Jason's talents, which are significant;y more combat-oriented than her precognitive ones.
The sudden right turn at the end, to tie it into the main body of the series, leaves me uncertain whether I would want to continue, since it appears potentially rather different in tone. Not least, I get the horrible feeling there's going to be one of "those" love triangles, putting the heroine between Jason and the dark, brooding vampire commander she encounters. Fortunately, that was only hinted at in the prequel, and what's here was, overall, pleasant enough.
Author: Ella Summers
Publisher: Currently only available as part of the Dominion Rising collection for Kindle.