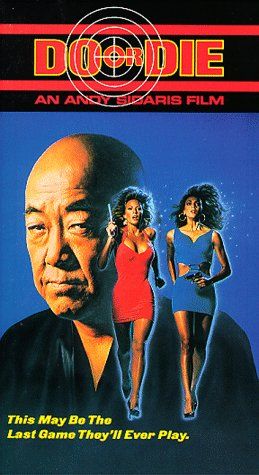 In a filmography not exactly noted for thought-out plots, this maybe counts as one of the thinnest. Donna (Speir) and Nicole (Vasquez) are targeted by death for Kane (Morita) for their interference in his illegal business ventures. But rather than simply bumping them off, as any sane criminal mastermind would do, he informs them of his intentions to send six separate pairs of assassins after them, beginning the next morning. Our pair of federal lovelies head out of Hawaii, little knowing that a tracker has been placed on them, allowing Kane's to follow them, while their master sits in his apartment and follows the progress of his "game" on a computer display resembling a bad TRS-80 game [younger readers can Google "TRS-80" if they need specifics], as they proceed from Las Vegas to Louisiana, with a motley crew of associated agents in tow, including infamous Meyer model, Pandora Peaks. No prizes for guessing her role.
There seems to be an awful lot more sex than violence here; the action sequences are not exactly thrilling, and the assassins are, almost without exception, entirely incompetent, so pose little or no threat. Even the boss level ninjas that represent the final obstacle are easily fooled into hanging around inside a hut long enough to be blown-up. The structure is obvious: the ladies are attacked, fend off their assassins with some semi-nifty piece of technology, then there's the required love-making scene, showcasing generally artificial attributes. Rinse. Repeat. Six times. It's kinda amusing to see Morita playing a bad guy, not least because his massaging Oriental sidekickess is a good four inches taller than him, as well as about forty years younger.
Brimhall gets to do another musical number, which is startlingly inappropriate in just about every way, though I confess I did find myself humming along when it was replayed over the end credits. However, I also found myself seriously dozing off during the early stages, and little of what transpired subsequently proved sufficient to retain my interest.
Dir: Andy Sidaris
Star: Donna Speir, Roberta Vasquez, Pat Morita, Erik Estrada