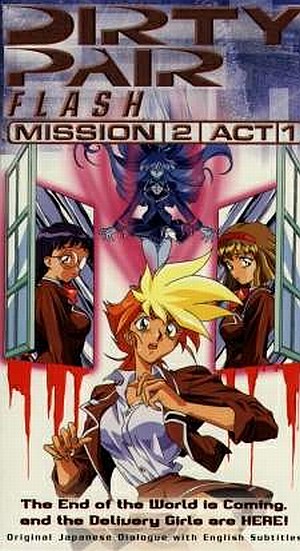 Where are Kei and Yuri, and what have you done with them? That might be the anguished cry of the Dirty Pair fan after watching these five episodes, most of which eschew any efforts at high-octane action, in favour of generally unamusing comedy and tedium. All five parts are set on World's World, a theme-planet that recreates 20th-century life for tourists. Our heroines are sent there because the computer is virus-infected, to bodyguard the network engineer Touma (Ono) who is going to fix it. Their presence becomes necessary, as it's soon clear someone is out to stop Touma from doing his job. That only occupies the bookend episodes: the middle three are, while still set on the same planet, largely unconnected. In them, Kei and Yuri must look into ghostly goings-on at a girls' school, help Touma with his love-life and bring a con-artist to justice.
Wow, this is bland and forgettable. Two of the episodes are closer to shaggy-dog stories, with twists in the tail that might as well open with flashing neon signs indicating their presence. This is not the Dirty Pair I signed up for. I signed up for the ones with the large weaponry, capable of taking out entire cities with a shrug of denial and an oversized weapon. Not these…bimbos, more interested in the romantic dalliances of a feeble supporting character than in a bit of the old ultraviolence. Really, the direction taken in this slate is a good example of why I started to lose interest in anime after the mid-90's: a dumbing-down and kiddification of the medium, that largely removed everything that attracted me to it to begin with. I blame Pokemon.
The setting has a lot of scope: the creators could potentially have thrown Kei and Yuri into any era and any location [can you imagine them in, say, the Wild West or feudal Japan?]. Appreciating that, dumping them into modern era Tokyo demonstrates a dearth of imagination that borders on the sad. There are occasional flashes of what you would expect from the series, such as the final episode, which becomes a moderately-rousing chase after the perpetrator behind both the computer virus and the attacks on Touma. That just simply throws the failings inherent in the rest of the episodes into even sharper relief. I never previously thought that the Dirty Pair could ever be boring; I guess I have this set of OAVs to thank for convincing me otherwise, as I spent far too much of them wondering how much longer there was to go.
Dir: Takahito Kimura
Star (voice): Rika Matsumoto, Mariko Koda, Kenichi Ono, Akio Ootsuka