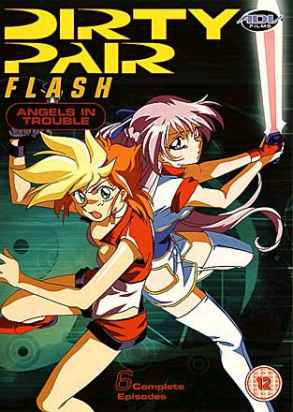 The surprising thing about this, is that the six episodes, basically, form a single plot, a radically different approach to the first phase anime, where the individual OAVs stood on their own, with little or no ongoing story arc. Here, the parts mesh, starting with the pair, off-duty, coming into possession of an encrypted card, which they must get back to 3WA headquarters, in the face of significant opposition. From this develops the uncovering of a galaxy-wide conspiracy involving the malevolent Lucifer group, which must be foiled, since they have control of galactic communications. However, a significant subplot involves Lady Flair, a sniper who humiliates Kei in the second episode, provoking her into a fury which leads, later on, to our redheaded spitfire quitting the 3WA in order to pursue Flair on her own terms.
There's some interesting background provided, in that Kei and Yuri are not the first to bear the "Lovely Angels" name for their employers. It seems to be more like the "Double 0" prefix, though perhaps limited to one pairing at any given time. Anyway, it seems the reign of the previous incumbents, Molly and Iris, ended when the former was killed on the job, and Iris quit, to vanish from the scene. Savvy readers may be already making a connection to the previous paragraph, but you'll find no spoilers here. No. Not at all. I can neither confirm nor deny any such thoughts.
I can't help feeling this wasn't as good as it could have been, given the components, which have potential. Maybe's it's the relationship between the heroines which is the problem; efforts to show them changing, from initially dislike into devoted partners, never convince on any significant level. All the rest of the elements are certainly present, from the major urban renewal scheme initiated by the demolition company of Kei+Yuri, Inc. in the first episode, through lightly-cheesecakey costumes to wholesale mayhem at an airport where everyone is packing heat, and there are enough good moments and fun to keep me amused. But the pair (Kei especially) are less heroic, savvy women, than two peeved, heavily-armed, teenage, girls. As we already have someone in the house who fits 3/4 of that bill – thankfully, not "heavily-armed"! – the appeal of this series is naturally diminished.
Dir: Takahito Kimura
Star (voice): Rika Matsumoto, Mariko Koda, Hazime Koseki, Yumi Touma