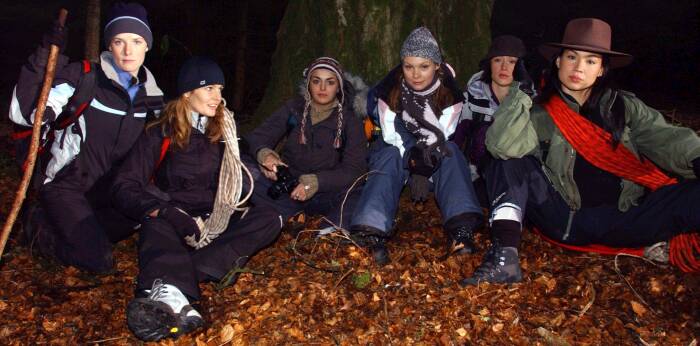 "Six chicks with picks."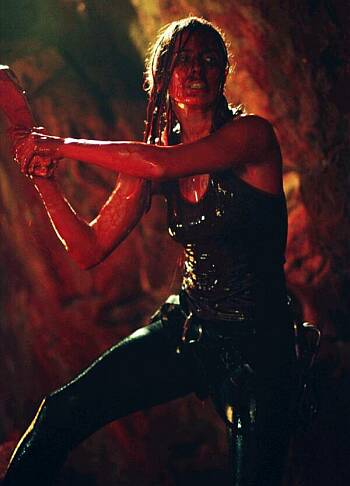 Simplicity is under-rated, especially when it comes to genre films. The simplest horror movies often work the best, because they prey on widely-held fears: monsters (Jaws), getting lost (The Blair Witch Project) or claustrophobia (Below). And now, we get The Descent, which combines all three into one ball of nerves, pitting six female cave-explorers against things below ground. This will do for speleology, what Touching the Void did for mountaineering or Open Water for scuba-diving – and I don't care if the cave, as one character here disparagingly says, "has handrails and a gift-shop".
This is an interesting reversal by Marshall from his first film, Dog Soldiers, though both did have a group of people in a small location, facing an outside menace. Dog centered on a group of soldiers in an isolated farmhouse, facing a pack of werewolves – as you can imagine, testosterone levels were set to eleven on that one. Here, save one brief, opening character, all the roles are filled by women, which adds a different dynamic to things. Central are friends Sarah (Macdonald), Juno (Mendoza), and Beth (Reid), whom we first encounter white-water rafting, though it seems Juno and Sarah's husband have their own leisure activity…
However, a year later, a car accident has changed Sarah's life, and the trio re-assemble, with three other women, for a little light caving. Unfortunately, rather than the scheduled, well-known cave, Juno opts to take them into a newly-discovered one. This is unfortunate when a rock fall shuts off the entrance, and it becomes clear no-one outside knows where they are, so the women have to press on, into the depths. Sarah is convinced she sees someone nearby: initially, no-one believes her, but eventually it's clear that there are inhabitants of the system, who are none too pleased to see them – except in a "nourishment" kind of way.
There's no doubt, this is not exactly new – you'll spot references to (if you're feeling kind – "bits stolen from", if you're not) other films throughout, from The Thing through Aliens to Pitch Black. The first half is also, to be honest, a little sluggish. Marshall throws in some cheap "Boo!" moments to keep the audience awake, of varying effectiveness, but it's only when the movie goes underground that this the edge of your seat becomes familiar territory. And once it does, the film barely pauses for breath until the final frame [The American version had a different, slightly-less bleak ending, from the UK version – having had it described to me, I'm curious to see it, though can't say that I felt the US cut was significantly deficient].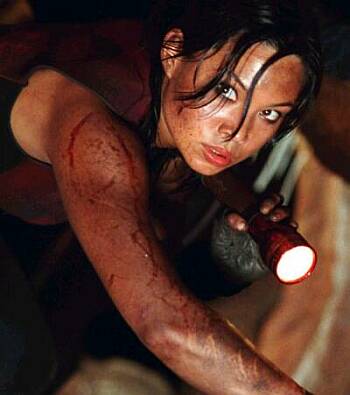 The focus of the film is Juno and Sarah, with the rest of the cast largely reduced to cannon-fodder – though not badly-drawn cannon-fodder, I must admit. Juno is a near-Amazon, while Sarah has to become one, simply in order to survive, and that's about the extent of the character development here. Demureness, beauty, the ability to bear babies, and all other typical "feminine" traits, are of absolutely no use whatsoever. The ability to drive your pick-axe, repeatedly, into the head of pissed-off Gollum wannabes, on the other hand… Yeah, that will help. But in another interesting contrast to Dog Soldiers, sisterly teamwork is notable by its absence. In the end, the women do almost as much damage on themselves, as the monsters.
The technical aspects are great, with set design and cinematography particularly worthy of praise. An uncomfortable feeling of being trapped in a dark, enclosed space has rarely been better captured; the only light present is what the explorers bring, and it gradually becomes less and less effective for their needs. It is occasionally chaotic, and a combination of limited illumination and the incidents that befall the characters often make it easy to lose track of who's who. That aside, however, this is a seriously kick-ass film, and the prospect of The Descent 2 would be extremely welcome here (though particularly in the British cut, somewhat unlikely…). I'm thinking, in that one, our heroine could perhaps get talked into leading a team of marines back into the monsters' lair… Stop me if you've heard that one before. :-)
Dir: Neil Marshall
Star: Shauna Macdonald, Natalie Mendoza, Alex Reid, Saskia Mulder