"Not very delinquent, and certainly not much of a boss."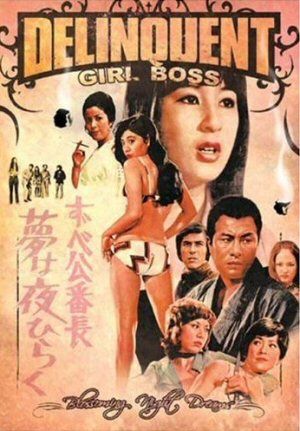 This was my first true vintage "pinky violence" movie, though I had bumped against some fringe entries in the genre before e.g. Female Convict Scorpion: Jailhouse 41, which I enjoyed and really must get round to reviewing for here some time. This one…not so much. It focuses on Rika (Oshida), who gets out of reform school, and gets a job as a 'companion' at a bar, where most of the girls have a similarly troubled background. The local Yakuza boss is sniffing around, and his path crosses Rika's after she (semi-unwittingly) helps a colleague steal some drugs from them. As a result, the house mother/bar owner, is on the hook for three million yen, plus interest.
It's hard to say exactly why I found this so disappointing. I did like Oshida's performance, as she has a kind of breezy delinquence that carries the film. However, most of the other characters (particularly the men) are little more than caricatures: witness the comic-relief gay character, while the Yakuza boss could have strayed straight from a Victorian melodrama, if only he had twirled his moustache a bit more. The plot doesn't go anywhere interesting, capping itself off with a battle in a pachinko parlour 0 and even here, the owner has to call on male help, in the shape of the man who murdered her father, but is now very, very sorry about it…
Including action sequences that are largely lamely staged and executed (the director would do a lot better when he got someone who could actually fight, like Sue Shiomi), plus just enough nudity to make Chris tut disapprovingly, without actually providing any cheap thrills, this looks and feels every one of its forty years. I suppose this might be the point, for a certain audience. But it fell far enough short of expectations that I was left suddenly rethinking my plans to have an entire section of the site dedicated to pinky violence.
Dir: Kazuhiko Yamaguchi
Star: Reiko Oshida, Tatsuo Umemiya, Yukie Kagawa, Bokuzen Hidari
a.k.a. Tokyo Bad Girls