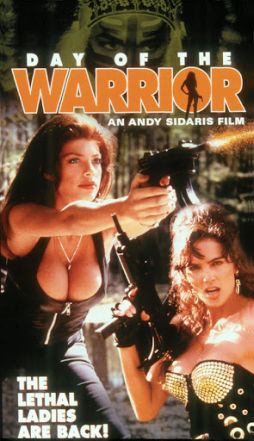 Andy was back on the helm for this one, but appears to have opted to go beyond subtle self-referential digs into full-blown camp, and I tend to think this takes away from the overall experience. The intent is clear when we are brought into the office of Willow Black, the head of L.E.T.H.A.L. (The Legion to Ensure Total Harmony and Law), and find her exercising on a treadmill in an outfit more suited for an exotic dancer. Which makes sense, because if you're a female agent of LETHAL, you can bet you'll be going undercover as a stripper or a porn actress – not quite the empowering government job one might expect. It also appears that breast enlargement surgery is required for all such operatives.
The target this time is the Warrior (Bagwell, who was a fixture in WCW at the time), a former agent turned professional wrestler(!) turned liberator of ancient artefacts and runner of a range of dubious business enterprises, ranging from bootleg films to diamond smuggling. LETHAL have several agents undercover, but someone hacks into their computers (which seem strangely retro from this viewing point). So the spies have to be brought in from the cold by Tiger (Sidaris newcomer Marks) before their cover is blow, including Cobra (Smith), the aforementioned undercover stripper – though there's not much of her under cover. There is also, for no readily apparent reason, a Chinese Elvis impersonator (Gerald Okamura), though I have to say, he is kinda engaging.
The problem is, when it's obvious the makers aren't taking this seriously – and that's clear from the handicap wrestling match which is the climax, between Willow and Elvis Fu on one side, and the Warrior on the other – why should the audience bother? And though the tone is clearly intended to be light-hearted, it's not actually very funny: the comic hamming of the Warrior's surfer-dude sidekicks is particularly dreadful. There also seems to be a lot of padding, such as stock-footage shots of Las Vegas, which go way beyond anything necessary or interesting, and you get far more uses of "I need to get something off my chest," than are in any way amusing.
And if ever I become an evil overlord, I will instruct all my minions on the perils of hiding out in a shack with "Fuel Supply" spray-painted on the side, especially when the opposition has access to an explosive-tipped crossbow… It can never end well for those seeking cover.
Dir: Andy Sidaris
Star: Shae Marks, Julie K. Smith, Marcus Bagwell, Kevin Light