"Life imitating art, imitating life"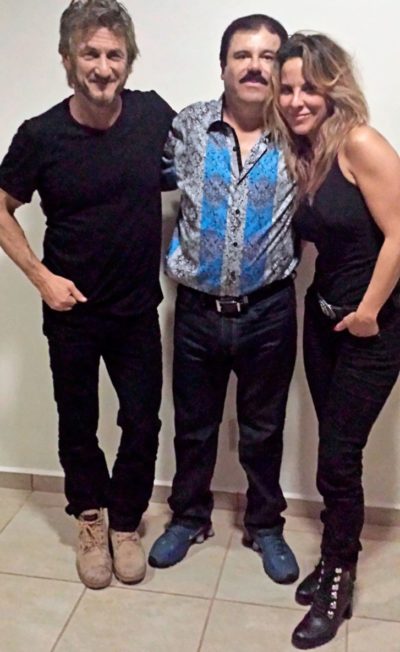 Del Castillo is the undisputed queen of the action telenovela. She made her name as the original "Queen of the South" in one of the most popular entries ever, La Reina Del Sur, and has since followed that up with Ingobernable and Dueños del Paraíso, playing the Mexican First Lady and another ambitious drug dealer. It was while filming the latter, that the stranger than fiction story told in this documentary reached its climax.
As we mentioned at the end of the Reina article, in January 2012, she Tweeted about notorious drug-lord El Chapo. Three and a half years later, after he had been arrested, and subsequently escaped from prison, this led to her and Sean Penn visiting the fugitive, with the plan being to make a film based on his life. Except Penn turned it into an interview for Rolling Stone, the Mexican government got very upset with Del Castillo, and when El Chapo was recaptured, they said it was largely a result of the Del Castillo/Penn visit – with all that implies. The actress was investigated for money laundering, the charges being dropped only a couple of days ago, and is still largely persona non grata in her home country.
The three-part series tells events from her perspective. and even though she was a producer on it, Del Castillo doesn't necessarily come out clean. From her first Tweet, she seems a little naive. "Let's traffic love," she says to a man who supposedly told authorities subsequently, he had killed between two and three thousand people. It feels as if Del Castillo believed the narcocorrida hype: bosses like El Chapo are often seen as folk heroes in Mexico, along the lines of Robin Hood. How much their social works are genuine, and how much practical business sense, is open to question. She does say she understands the cinematic meaning of the word "cut", and lets go of the characters she plays. Yet I also suspect Kate may have felt that playing a trafficker on TV made her El Chapo's "equal" somehow.
You can certainly argue that journeying into the heart of the Mexican countryside to meet the most wanted man on the world, who seems to have a crush on you, shows poor judgment. On the other hand, she does come over as courageous. While you can question her ideals, it's hard to say she's not entirely committed to them, regardless of the personal cost. Even now, you sense the personal cost has, if anything, probably hardened her resolve. I can't blame her at all for that: the Mexican government appear to have engaged in a campaign of harassment of Del Castillo, little short of a vendetta. This involves everything up to, and including, fabricating text messages between her and El Chapo, with the intention of damaging her reputation and credibility.
Penn comes off little better. Though we don't hear directly from the actor – he refused to take part in the documentary – the evidence presented here seems to suggest he used her for his own ends. Most damningly, he got journalist accreditation from Rolling Stone for himself and the film producers who also went with them – but not Del Castillo. And while he may not have directly or wittingly informed the authorities of their plans, it's quite possible it was through his circle they became aware of the trip. In a subsequent media statement about the film, Penn's camp didn't hold back, saying, "This is nothing but a cheap, National Enquirer-esque tale spun by a delusional person whose hunger for fame is both tawdry and transparent." I think it's safe to say, if Kate ever gets to make her El Chapo movie, Penn will not be taking part.
While mostly talking heads and old news footage, it does a decent job of weaving the narrative, despite the lack of contemporary input from two-thirds of the people in the photo above. It was still interesting enough to make Chris become one of Del Castillo's 3.5 million followers on her bilingual Twitter feed. Now, if only I can get her into watching Dueños del Paraíso…
Dir: Carlos Armella