"Before you embark on a journey of revenge, dig two graves."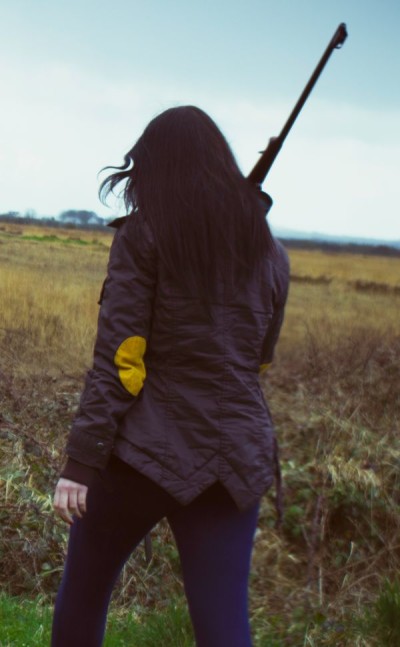 So Confucius (allegedly) said, and it appears the same is true in the Irish countryside – though I'm still not sure if the film's title is a Bruce Springsteen reference. In this particular town, the sister of Cleo O'Callahan (Regan), turns up dead on the floor of a bar bathroom, her throat cut. Worse yet, Cleo and her BFF Robin (Willis) come across the bloody scene, after being alerted by the police activity. Who was responsible? Francis Macheath (Monaghan), the traveler to whom the sister owed money? Robin's stalkery brother, Virgin (Gleeson), who had a bit of an unhealthy obsession with the dead girl? Or is the truth even more unpleasantly close to home? It matters, because Cleo has no confidence at all in the local cops' ability to solve the class, and since she's an Olympic-level shot, has the capacity to back up her bold statements of revenge. The question is, at what cost?
If Italian genre entries are known as "spaghetti Westerns", does that make this a "potato Western"? Because there's a lot here that seems to be borrowed by Ryan from the genre; while the landscapes may be a lot lusher than the Wild West, there's no less lethal threats to be found, and Cleo's taciturn shooter, out for vengeance, is only about a cheroot and some stubble from being Clint Eastwood. The film is actually not very concerned with revealing the killer – that particular aspect is answered very near the beginning, though I'm unsure if this could be a misstep, since it drains much potential suspense away. However, I get the feeling Ryan is much less concerned with "whodunnit" than why, as well as the question of how many more will end up falling victim to the resulting blood feud, and the toll it will eventually take on Cleo. Even though, there's certainly a case to be made that Robin actually the more dangerous of the pair, thanks to her talent for manipulation.
There were elements that reminded me of Peter Jackson's Heavenly Creatures, which drew a picture of a similar teenage relationship, whose very intensity helped lead to tragedy. The two Emmas, of necessity, are leaned upon to carry a great deal of the picture's weight, and they are both very good in their roles, especially when, as during the 10 minutes which form the nearly-wordless opening sequence, they are forced to act. Ryan is perhaps too fond of these artistic flourishes, which tend to distract as much as they enhance, and you also need to exhibit some patience with the film, working with its rural rhythms, which are some way from the genre standards. However, the reward is certainly worth the effort, with the settings and characters providing a fresh new twist on a familiar formula.
Dir: Patrick Ryan
Star: Emma Eliza Regan, Emma Willis, Brian Gleeson, Sam Monaghan