"Never has the chasm between idea and execution been quite so yawning."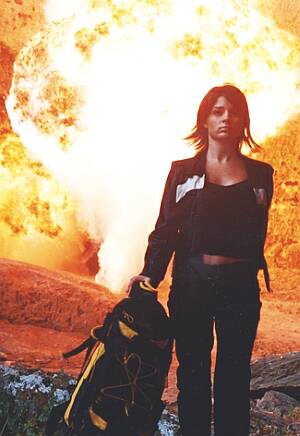 Great concept: Lilith, Adam's first wife, condemned to immortality, is now an amnesiac in a minimum-wage job. But when a demon threatens to unleash a plague of biblical proportions on the Earth, she has to be shown her true nature and convinced to hunt down the enemy. Unfortunately, almost every aspect, from exposition through characters to the action and CGI-heavy effects, are awful. Not just bad: awful. The plot is contrived and relies on things like TV news to propel it, the main protagonists are Buffy/Watcher clones; Lilith's "training" consists of one laughably short session; the action sucks because she's clearly fighting thin air, and as for the final battle…I've seen better and more convincing computer graphics on a Game Boy Advance.
There are a couple of facets I quite liked; the concept of a religious group secretly protecting the world from demons and so forth is nice, and Appleby has some screen presence. However, most of the potential is screwed up with ruthless efficiency; the makers needed to watch Witchblade and see how to handle a heroine with a past [admittedly, they had an entire season to work with, not two-hours-minus-adverts]. The angst Lilith feels is nonsense. She's been killing since time began, so has clearly come to terms with it, so why break down over one death? She'd have been better off as an 'avenging angel', without moral qualms.
The ending is, inevitably, left open for a sequel or a series, but there's absolutely nothing here that would encourage me to watch it. The best one can say is that, at $2m, it wasn't expensive, but the SciFi Channel could surely have found more worthwhile projects to fund than this poorly-made collection of bits and pieces stolen from better heroines.
Dir: Bill Platt
Star: Shiri Appleby, Richard Burgi, John de Lancie, Richard Gnolfo