"Illegal aliens"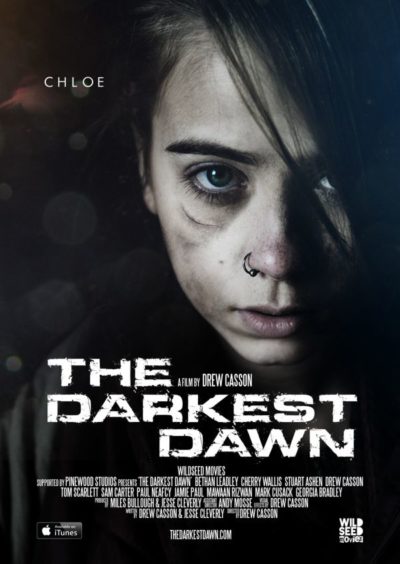 This is apparently a sequel to a previous movie about an alien invasion of Earth (and, specifically, the United Kingdom) from the same director, Hungerford. While I haven't seen it, this likely didn't impact things too much here; I sense it's perhaps closer to a separate story, unfolding in the same universe, than a true sequel. It's the story of teenage sisters Chloe (Leadley) and Sam (Wallis), with the former getting a video camera for her birthday – just in time for said invasion to kick off, with their family being separated in the ensuing chaos. Toting her camera, Chloe and her sibling take shelter, then scurry through the blasted landscape, facing the threat not just of the extra-terrestrials, but renegade bands of survivors. For it also turns out Chloe, specifically her blood, is a key to the resistance. What are the odds?
There's a strong sense of Cloverfield here, with the alien threat glimpsed more in passing than directly. The major difference is probably the human element, since the sisters are in peril from other people, as much if not more than from the invaders. Of course, the whole "found footage" thing has been utterly done to death since Blair Witch – and I think even that was vastly over-rated. Here, it adds precious little to proceedings, and there's not much which could have been done equally as well (or, arguably, better), with an external viewpoint. It has all the usual issues of the genre; most obviously, why the lead character keeps filming, when on multiple occasions common sense and survival instinct would dictate dumping the camera and legging it. But then, a more conventional approach probably would have led to the production costing a great deal more than £40,000 (approx. 1/500th that of Cloverfield).
The two leads are, I believe, YouTube stars rather than professional actresses, and that's a bit of a double-edged sword. They do have a natural and unaffected quality, which helps their characters avoid falling into the irritating teenager trap. But they don't have much more, and any time there is actual acting required – rather than reacting – then they come up short. While the script does give Chloe a decent arc, going from a typically self-obsessed teenage girl into a focused and determined young woman, the climax feels somewhat undercooked. It does not offer the viewer much in the way of resolution, I suspect because writer-director Casson perhaps wants to return to the same milieu in future.
While I wouldn't be averse to that, I hope Casson (dear God, I just realized he's only 22 and has already made and had released two cinematic features) stretches his talents into more than the found footage genre, since too often this is merely a crutch for low-budget film-makers, used to excuse away shaky camerawork and improvised dialogue. There's some evidence of talent visible here, on both sides of the camera – providing you can get past the likely motion sickness this may cause.
Dir: Drew Casson
Star: Bethan Mary Leadley, Cherry Wallis, Stuart Ashen, Drew Casson