"The devil in the details."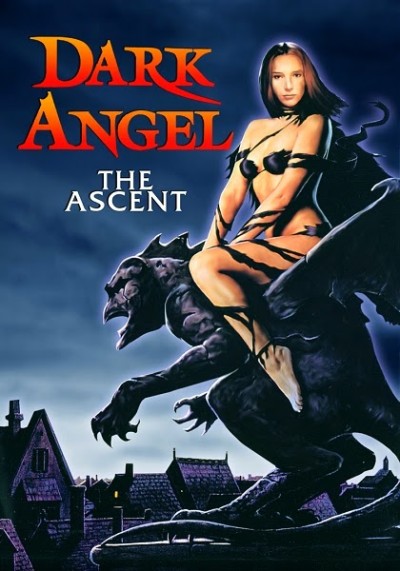 This is actually a really interesting idea. We generally think of devils as "bad" – but what if they don't see themselves the same way, and feel they are doing an important part of the Lord's work, by punishing sinners? That's the concept here, which sees the demonic Veronica (Featherstone) clamber out of hell through a conveniently unguarded exit, to see what the world above is like – let's face it, since all she gets are the wrongdoers sent to damnation, her opinion is a little skewed. Apparently unaware of such everyday issues as traffic (and likely more importantly for most male viewers, clothes), she rapidly gets nailed by a truck. In hospital, she is treated by Dr. Max Barris (Markel), who is perplexed by the odd behaviour of his new patient, but she pulls a Satanic version of the Jedi mind trick, and convinces him that she should move into his apartment. There, she watches television, discovers that there are plenty of perfectly-good wrongdoers here on Earth who need to be punished, and begins a vigilante campaign to take them out. This draws the attention of both the local cops investigating the trail of corpses, and corrupt local official, Mayor Wharton (James), who becomes Veronica's #1 target.
I love films with a different take on the traditional heaven/hell division – Don't Tempt Me is a personal fave – and this movie also raises some interesting questions, about whether it's acceptable to do bad things for good reason. An example: generally, ripping someone's spine out of there back is frowned up in most cultures. But what if they have been caught in the act of trying to rape a young woman? Where is your morality now? This isn't pulled out thin air, and is actually what happens here; Veronica appears faintly perplexed that the victim doesn't want the dripping spine as a souvenir of the incident. Of course, her ability to do that Jedi thing certainly makes life easier, even when her actions draw increasing attention – "covering her tracks" should be added to her long list: "Things of which I'm entirely oblivious." It's a shame that there isn't more investigation into the spiritual aspects, like the scene where she meets a pair of nuns, and gets down on her knees for them. The poor sisters are even more confused when the cross they give Veronica  bursts into flames…
Instead, the film limps off into something that's partly a love-story, and partly Veronica stalking the Mayor, neither of which are anywhere near as interesting. It feels as if they came up with the brilliant idea, started filming a movie based on the concept… and only then figured out they didn't know what to do with it. Things peter out in a disappointing matter, and I suspect the makers (it's a Charles Band production) were looking to start another of their franchises, alongside Trancers, Demonic Toys, etc. Perhaps future installments could have done a better job of exploring the potential in a universe, which is only hinted at here.
Dir: Linda Hassani
Star: Angela Featherstone, Daniel Markel, Milton James, Michael C. Mahon