"Fringe with fringes"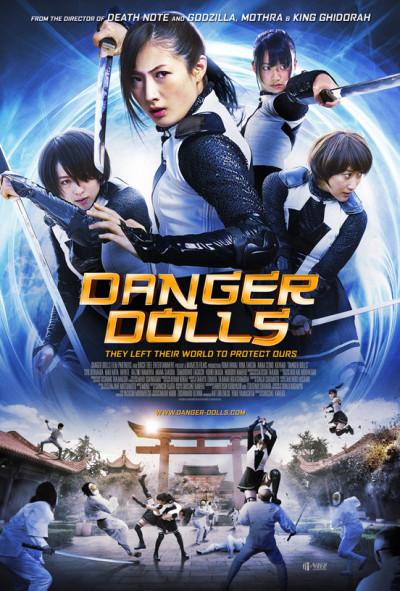 An interesting alternate universe here, diverging at the end of World War II, where the horrific results of Hiroshima and Nagasaki triggered the world into abandoning, first, nuclear weapons and then eventually, all guns as well. In the present day, crime still exists, but it largely consists of people holding up banks with swords, for example. However, trouble lurks in this gun-free paradise, in the form of a parallel universe, which appears to have designs on ours, and is sending people through a wormhole, and replacing the ones on this side with the aim of establishing a bridgehead. Countering this threat are the titular quartet, led by Arisa (Hanai), who have the martial-arts skills to counter these "filthy invaders", and can also see the blue glow which identifies natives from another dimension.
After successfully destroying five political figures who had taken the place of their counterparts on this side, things get more complex, with the next mission being to infiltrate a country retreat belonging to that political party, a venue recently visited by all five dimensional visitors. It's decided by their boss that the girls will go under cover as an all-girl group of pop stars – the i.Dolls – using a tour as disguise for their activities, on the basis no-one will pay attention to a bunch of idol singers. Yeah. Not perhaps the soundest decision making ever, that. Exploring the ground, they find what looks like the innocent gateway to a Shinto shrine, only to discover it is actually cover for the wormhole. Confusing matters further, the parallel version of Arisa comes through from the other side where it turns out that she and the other three – hey, what are the odds? – actually are members of an all-girl group. This Arisa discovers that things are not quite as cut and dried as they seem, and that even their own origins may be other than they believe.
It's likely a case where less plot would be more – and fewer Danger Dolls would probably be a better idea too. For as is, beyond Arisa and Ray (Takeda), there's precious little characterization to be found for Miki and Mari, whose sole purpose for existing seems to be to justify the idol singer thing, because a singing duo would seem a bit crap. The action sequences are spottily impressive. It's clear Takeda is head and shoulders above the others in terms of ability, though Hanai has her moments, and there are some nice moves. The most spectacular of these are apparently inspired by lucha libre, leaving me suitably impressed, and the lack of doubling and wire-work was also quite laudable. However, the need to slice up the screen time between four protagonists does leave the battles feeling choppy, and it's only once the herd is thinned at the end – I'll say no more – that proceedings achieve the necessary fluidity. There's no doubt Takeda still has star potential; as with her earlier movies, however, this vehicle for her talent falls short of its main ingredient.
Dir: Shûsuke Kaneko
Star: Rumi Hanai, Rina Takeda, Kayano Masuyama, Nana Seino