"How the West was wo(ma)n."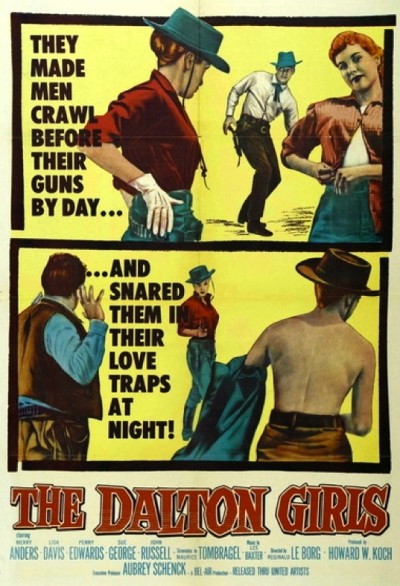 "Oh, you can't trust a man, 'cos a man will lie,
But a gun stays beside you till the day you die.
A man is a cheater, with his triflin' ways,
But a gun's always faithful, 'cos a gun never strays."
   — Holly Dalton (Merry Anders)
The above comes from a rather strange musical number, injected into the middle of this B-Western for no particular purpose. It's sung by Holly, the leader of the titular gang, consisting of four sisters: the older pair Holly and Columbine (Edwards), are forced on the lam after a sleazy funeral director tries to force himself on Holly, resulting in his encounter with the business end of a spade. Six years later, they have been joined by younger siblings Rose (Davis) and Marigold (Sue George). and are raiding stage coaches around the West.
Things are derailed when one of their targets is carrying W.T. "Illinois" Grey (Russell), a gambler on his way to the Colorado boom town of Dry Creek. Columbine falls for him, and casually suggests Dry Creek as the location for the gang's next raid. They raid the bank, and get away with $6,000 – which was supposed to go to Grey, and he is shot in the process. He trails them to Tombstone where, rather than tell the sheriff, he blackmails the gang to get the money back, and Holly decides to get revenge by raiding the high-stakes poker game where he is wagering the cash.
It's a wonderfully grey film, morally speaking: unlike many Westerns of the era (1957), it isn't black-hatted villains metaphorically twirling their wax moustaches, as they go up against square-jawed good guys in their white hats. Here, there isn't anyone whom you could truly place at either end of the moral spectrum. The Daltons, Holly in particular, are victims of their family reputation – the film opens with their brothers being hunted by a posse, and gunned down in the desert. [The funeral director who assaults her is displaying the corpses for a 25-cent admission fee, which appears based on the fate of the real Dalton Gang].
On the other hand, Grey is certainly no hero either, a pragmatist whose main focus is looking out for #1. Naturally, crime can't be allowed to pay, and the ending reflects that. However, the journey is a surprisingly forward-thinking one, with only the doomed Grey-Columbine romance counting as an expected element. There is probably one sister too many, since they do blur together, and absolutely nothing like the tagline on the poster happens ["snared them in their love traps at night"? Really?], though that may not be a bad thing. Apart from the fact that the outlaws are women, the story doesn't have much new to offer. However, considering the era, that alone is still borderline radical, and plays a good two decades ahead of its time, if not more.
Dir: Reginald Le Borg
Star: Merry Anders, John Russell, Penny Edwards, Lisa Davis